Used Hospital Bed Company Offering Refurbished Medical Beds to Home Care, Long Term Care and Nursing Schools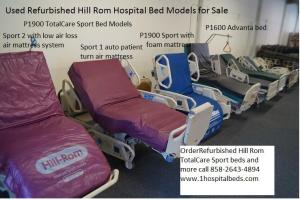 Used and Refurbished Hill Rom and Stryker hospital beds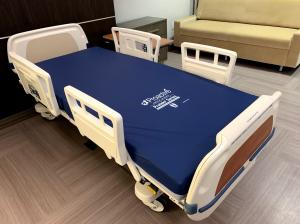 Used refurbished hospital beds are being used for home care and long term care like the Stryker Secure 2 seen in this photo
Used refurbished and reconditoned hospital beds from Hill Rom and Stryker offer a lot of value for home care, long term care and acute care patients.
The used hospital bed market continues to grow and home care patients, long term care, post acute care facilities and hospitals need refurbished and recertified beds for limited budgets they have."
— Gloria Flores
SAN DIEGO, CALIFORNIA, USA, April 18, 2023/
EINPresswire.com
/ -- The used
refurbished hospital bed
market continues to grow and with a growing number of home care patients needing a higher level of patient care reconditioned beds are becoming a popular option. Used hospital beds normally enter the medical equipment market when hospitals receive funds to buy new beds. Many times these hospital beds are gently used and have stayed in one room and one place the entire time they have been in service. This limits the wear and tear they get an unlike stretchers and gurneys that are pushed up and down hallways medical beds normally are rarely moved from their original location. Normally these hospital beds are made by the two largest bed distributers being Hill Rom and Stryker respectively. These two bed manufacturers are often competing to take over not only a hospital but a whole healthcare chain and when that happens many times newer bed models hit the
used hospital bed
market since they are no longer able to get service from the rival brand.
Hospital beds come in two primary categories with one being called "med-surge and the the other being called "ICU" or acute care. The primary difference between the two bed models is that "med-surge" beds come with a foam mattress and are for patients with mobility and acute care beds are equipped with an air mattress system and are for patient with limited or no mobility. These beds are known to be very durable, reliable and all are full electric.
When hospital beds leave a hospital they are often times picked up by medical equipment companies that ship them to facilities to receive service and then recertify, recondition and refurbish them. Medical Equipment companies like GMG Medical Equipment in San Diego refurbish or recondition beds and have them recertified so they can continue to assist patients around California, Arizona, Nevada, Oregon, Washington, Virginia, Florida, Texas and other parts of the United States. Many of the
wholesale hospital beds
are shipped overseas to Africa, South America, Mexico and more. GMG Medical Equipment also delivers many of these beds to customers in San Diego, Orange County, Riverside County and Los Angeles often times removing older less durable beds and equipment at the same time.
As many hospitals see smaller purchasing budgets the ability to get refurbished hospital beds offers great value. These are many times beds they already have in service and the savings is normally at least 50 percent less than what they would pay for new. For home care and long term care patients this also provides a great value to get a hospital grade bed at a cheaper cost than buying new. Many of the home care patients are people dealing with ALS, MS, quadriplegic, paraplegic and patient with limited mobility and those that require a higher level of patient care.
"We serve many home care patients with durable medical equipment from hospitals' that provides a higher level of patient care than what most insurance providers will send out. We often provide the used refurbished Hill Rom and Stryker beds to these customers and many times it was the same bed they were using in the hospital", said GMG Medical Equipment CEO Gloria Flores. "With many families wanting to keep their loved ones at home the demand for hospital grade beds at home continues to grow and the demand for used hospital beds provides a high level of quality care for a lower price".
As hospitals continue to find ways including renting beds and leasing beds from manufacturers to keep beds in stock for patients, the need for used medical beds from medical equipment companies continues to grow with it. Companies like GMG Medical Equipment are also providing wound care surfaces, air mattress, hoyer lifts, over the bed bedside tables, bedside cabinets and other durable medical equipment and patient room furniture for many of these clients. Nursing schools are also taking advantage of getting used and reconditioned beds for skills labs and SIM lab training and are also finding the value for getting these beds is helping them save money and keep tuitions low.
For more information on used hospital bed and refurbished bed models contact GMG Medical Equipment in San Diego at 858-922-6862 or in Virginia at 540-327-7376 or visit thier website at
https://www.1hospitalbeds.com
Gloria Flores
GMG Medical Equipment
+1 858-922-6862
email us here
Visit us on social media:
YouTube
Used hospital beds, refurbished hospital beds for sale