Vampyre Cosmetics x Emily The Strange Launches Emily Rocks an Officially Licensed Collection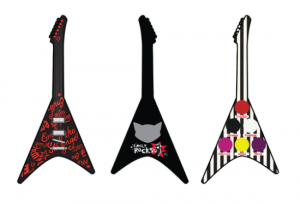 Emily the Strange x Vampyre Cosmetics Guitar Shadow Palette
Emily the Strange x Vampyre Cosmetics Microphone Lipstick in Punk Pink
Emily the Strange x Vampyre Cosmetics Microphone Lipstick in Rebel Red
Vampyre Cosmetics brings Emily the Strange to life with an official licensed collection that includes guitar shaped palettes and microphone shaped lipsticks
Makeup is Magickal"
— Vampyre Cosmetics
NEW ORLEANS, LOUISIANA, USA, March 1, 2023 /EINPresswire.com/ -- Vampyre Cosmetics launches Emily Rocks, an officially Licensed Emily The Strange Rockstar collection with Guitar shaped palette & Microphone Shaped Lipsticks. Building on their previous collaboration that includes Cat head-shaped palettes featuring the infamous felines of Emily's Bad Kitten Club: Sabbath, Nee Chee , Mystery , and Miles. Emily the Strange and Vampyre cosmetics are a perfect fit!
Vampyre Cosmetics remains the ideal brand to bring the beloved counter-culture icon, Emily the Strange, to life for a new generation with vivid, highly pigmented rockstar-themed vegan, cruelty and talc-free cosmetics. The unique microphone-shaped lipsticks come in three matte transfer-resistant long-lasting colors; Punk Pink, Rebel Red, and Precocious Purple. The highly collectible Guitar shaped palette delivers professional-quality shadows at a consumer price point. Living up to Vampyre Cosmetics' belief that makeup should be accessible to all.
Emily the Strange is an illustrated fictional character featured in several comic books, graphic novels, and various merchandise and clothing lines. Rob Reger created her for his company Cosmic Debris Etc. Inc. She's often depicted as a rockstar, mad scientist, and troublemaker in various media.
Vampyre Cosmetics strives to be a "beauty disruptor," renouncing social constructs of beauty and replacing them with individual ones. They believe no one should have to choose between unique, inspired packaging and high-quality, ethical cosmetics, so they committed to being all in one.
They believe gender is a construct and has no place in their business. They refuse to gender products because their products are for everyone. They want to help those who use their products to feel empowered to show up in their skin however they wish. Vampyre Cosmetics is women-owned, disabled-owned, LGBTQ+ owned, 100 % vegan, cruelty-free, and Talc Free.
Their creed can be found on the backs of all new palettes and boxes: "Makeup is Magickal. Steeped in academia and dark lore, we create products for the people mainstream brands leave behind. We believe you should be able to express yourself as you wish. Vampyre Cosmetics gives you the tools to define your aesthetic and begin your makeup adventure."

For More Information:
Website www.vampyrecosmetics.com
Emily the Strange Collection
https://www.vampyrecosmetics.com/collections/emily-the-strange
Brand Deck:
https://www.vampyrecosmetics.com/pages/brand-deck
Digital Sell Sheet:
https://www.vampyrecosmetics.com/pages/digital-sell-sheet
Lisa Malcolm
Lynk PR
+1 818-835-1783
email us here
Visit us on social media:
Facebook
Twitter
LinkedIn
Instagram
TikTok