Abundance: A pop-up dinner & art event by Chefs Rotem Greniman & Adam Cohen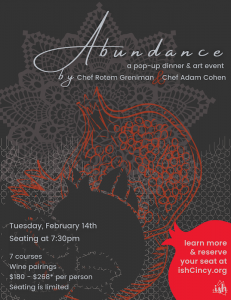 Two chefs, seven courses, one-night-only. Organizers of the ish Festival and 2022 BLINK Parade host 'Abundance', a pop-up dinner and art event.
CINCINNATI, OHIO, UNITED STATES, January 27, 2023 /
EINPresswire.com
/ -- ish, an independent community engagement organization fostering connections through arts and Jewish culture, is testing out an upscale dining experience this Valentine's Day in partnership with local chefs, Rotem Greniman and Adam Cohen.
"The food is going to be amazing!" says Chef Rotem Greniman, whose Moroccan-Israeli heritage flavors her culture-centered catering business. "I started 'Meals by Rotem' during the Pandemic. I needed something to do so I didn't go crazy. I missed cooking for people. I wanted to give families something special to look forward to at the end of the week". While Greniman had been cooking for close friends and community events off-and-on for years, she really started promoting herself as a Professional Chef during the Pandemic, with her weekly Israeli-inspired Friday night Shabbat dinners, offered by pre-order from late 2020 through 2021.
But Greniman isn't a one-woman show. "I wouldn't do anything like this without Adam," Greniman says, referring to longtime friend, fellow culinary entrepreneur and chef, Adam Cohen. "I love working with Rotem...her Israeli-Mediterranean dishes pair so well with my culinary voice. We have different styles, but they are really compatible. The food cultures meet, and it just works." A scratch-kitchen aficionado, Cohen moonlights as a personal chef for hire, outside of a 9-5 job. "I jump at every chance I get to cook for people. It's where my heart is," Cohen says.
Limited spots are available for the one-night-only event, which will take place at the new "ish Garage" space in Northside. The intentionally crafted menu and accompanying art show will take on the curatorial theme of 'Abundance', with course names ranging from 'Bounty', 'Myriad', and 'Prosperity.' "We want people to enjoy the richness of the flavors and appreciate the symbolism of the dishes...it's about love, indulgence..." Greniman says.
Aligning with Valentine's Day, Tuesday, February 14th, the seven-course tasting menu with optional wine pairings features flavors and ingredients also inspired by the Jewish holiday of Tu B'shevat, which begins this year on Sunday, February 5th, and is traditionally celebrated with a vegan meal made from seven plant species grown in the land of Israel. "Pomegranate was the perfect throughline...it's luscious red, sweet, and perfectly tart," Cohen says. The meal will begin with a bouquet of roses and pearls: cured salmon roses and beet rosettes, with a pomegranate mousse and pomegranate pearls, and finish with chocolate truffles topped with pomegranate dust. While organizers aren't publishing the full menu, there will be a shared dish, a pasta course, a meat dish, and a fish dish, each highlighting the star ingredient in different forms and constructions.
Tickets
are available online and range from $180 - $268 with options for private or communal seating, and wine pairings. A portion of proceeds support the upcoming ish Festival on Sunday, October 1, 2023 in Washington Park.
Learn more
at
ishCincy.org
.
Lauren Goldberg
ish
+1 513-541-1496
marketing@ishfestival.org
Visit us on social media:
Facebook
Instagram