Scripophily.com Offers Original Standard Oil Trust Stock Certificates Signed by John. D. Rockefeller & Henry Flagler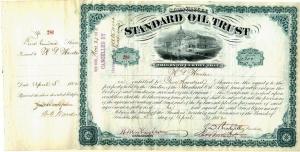 Standard Oil Trust Stock Certificate signed by John D. Rockefeller
Collect U. S. Savings Bonds
Defense Savings Bond
Standard Oil Trust Stock Certificates Signed by John. D. Rockefeller & Flagler will be showcased at the Northern Virginia Stock and Bond Show in on JAN 27-28th
Stock and Bond Certificate are wonderful historical collectibles."
— Bob Kerstein, Founder Scripophily.com
FAIRFAX, VA, UNITED STATES, January 23, 2023 /EINPresswire.com/ -- Scripophily.com ®, the Internet's largest buyer and seller of collectible stock and bond certificates, has seen considerable interest in the acquisition of Standard Oil Trust stock certificates signed by John D. Rockefeller. The Standard Oil Trust stock certificates were issued in 1882 and were printed by the Franklin Bank Note Company. The certificate was hand signed by John. D. Rockefeller, Henry Flagler and Jabez Abel Bostwick and is over 140 years old.
The 21st Annual International Stock and Bond Show in Herndon, Virginia will have thousands of historical and artistic stock and bond certificates, autographs, paper money, coins, Liberty Loan Bonds, U.S. Savings Bonds, old documents, and much more. The show will have dealers from all over the world and is always one of the best stock and bond shows. The show is managed by the world famous, Bob Schell.
The location of the show is the Crowne Plaza Hotel near Dulles Airport at 2200 Centerville Road and located just 21 miles from Washington DC (call 800-227-6963). The show starts on Friday, January 27th to Saturday, January 28th, 2023. The show hours are from 9am to 6pm on Friday and from 9am to 4pm on Saturday.
"The Standard Oil Trust began in 1882 by merging all of John. D. Rockefeller's oil properties and had an initial capital of $70 million. There were originally forty-two certificate holders, or owners, in the trust. After ten years the trust was dissolved by a court decision in Ohio due to violation of the Sherman Antitrust Act which was an attempt to restrain the power of trusts with respect to restraint of trade or commerce." according to Bob Kerstein, CEO Scripophily.com.
Standard Oil Trust lost a Sherman-related lawsuit in Ohio in 1892, but it was later able to incorporate in New Jersey as a holding company when New Jersey had adopted a law that permitted a parent company to own the stock of other companies. It is estimated that Standard Oil owned three-fourths of the petroleum business in the U.S. in the 1890s.
Rockefeller held the title of president of Standard Oil until 1911, but he retired from active leadership of the company in 1896. In 1911 the U.S. Supreme Court found the Standard Oil trust to be in violation of the anti-trust laws and ordered the dissolution of the parent New Jersey corporation. The thirty-eight companies which it then controlled were separated into individual firms.
Some of these spin off companies included:
Standard Oil of New Jersey (SONJ) - or Esso (S.O.) – renamed Exxon, now part of ExxonMobil. Standard Trust companies Carter Oil, Imperial Oil (Canada), and Standard of Louisiana were kept as part of Standard Oil of New Jersey after the breakup.
Standard Oil of New York – or Socony, merged with Vacuum – renamed Mobil, now part of ExxonMobil.
Standard Oil of California – or Socal – renamed Chevron, became ChevronTexaco, but returned to Chevron.
Standard Oil of Indiana - or Stanolind, renamed Amoco (American Oil Co.) – now part of BP.
Standard's Atlantic and the independent company Richfield merged to form Atlantic Richfield or ARCO, recently part of BP but has since been sold to a Japanese company. Atlantic operations were spun off and bought by Sunoco.
Standard Oil of Kentucky – or Kyso was acquired by Standard Oil of California - currently Chevron.
Standard Oil of Ohio – or Sohio, acquired by BP in 1987.
The Ohio Oil Company – or The Ohio, and marketed gasoline under the Marathon name. The company is now known as Marathon Petroleum, and was often a rival with the in-state Standard spinoff, Sohio.
Stock certificates are collected and given as gifts because of their historical significance, beauty and artwork, autographs, notoriety, as well as many other factors. The supply of new certificates reaching the collector market has been substantially reduced due to changes in state laws and stock exchanges rules. Many companies are no longer required to issue physical stock and bond certificates, a process called "dematerialization."
Scripophily (scrip-ah-fil-ly) is the name of the hobby of collecting old stock and bond certificates. Certificate values range from a few dollars to more than $500,000 for the most unique and rare items. Tens of thousands of Scripophily buyers worldwide include casual collectors, corporate archives, business executives, museums and serious collectors. Due to the computer age, more and more stock and bonds are issued electronically which means fewer paper certificates are being issued. As a result, demand for paper certificates is increasing while supply is decreasing.
Our company has been featured on CNBC, USA Today, Associated Press, Reuters, Nightline, Today Show, Baltimore Sun, and Washington Post and in many other media publications. Scripophily.com has items on display in museums around the world.
The company also offers the World's #1 old stock research service at OldCompany.com and offers high resolution scans for publications. Scripophily.com has over 16,500 selections on its website. Scripophily.com /Old Company Research Service,
Scripophily.com /Old Company Research Service, founding member of the Old Stock Exchange, is the successor company to all material published by the Marvyn Scudders Manuals, the Robert D. Fisher Manuals,R.M. Smythe Stock Research Service, and the Herzog & Co., Inc. obsolete research services. These services have been performed continuously for over 137 years since 1880. We are the leading provider of authentic stock certificates, autographs, and old company stock research services.
Scripophily.com and Old Company Research Services was founded by Bob Kerstein (Bob.com). Bob is a retired CPA and CGMA, and has more than 46 years of senior management experience in the Cellular, Cable TV, Satellite, Internet, Professional Sports and Entertainment Industries. Bob is also the President of the Professional Scripophily Traders Association (PSTA) and a board member of the International Bond and Share Society.
For more information on Scripophily.com®, visit https://www.scripophily.com, https://www.oldcompany.com, https://www.scripophily.net, http://www.RMSmythe.com, http://www.bob.us, http://www.rsschell.com/ or call 1-703-787-3552.
Bob Kerstein
Scripophily.com
+1 703-787-3552
email us here