SARAI KORPACZ TO RELEASE' HOLY GROUND,' HER FIRST SINGLE OF 2023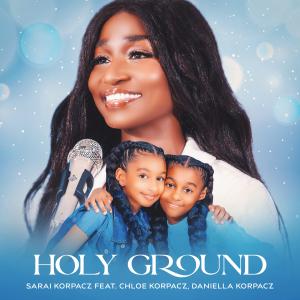 New Single, Holy Ground by Sarai Korpacz (ft. Chloe & Daniella Korpacz)
Singer - songwriter, and Producer, Sarai Korpacz
Daniella Korpacz 10, and Chloe Korpacz 11, Featured Singers
A POWERFUL INTERGENERATIONAL COLLABORATION OF SINGER-SONGWRITER SARAI KORPACZ, AND TWO DAUGHTERS CHLOE 11, AND DANIELLA 10
We can all come from where we are in life and say 'Here I am' to God. We will then experience the comfort Moses in the Bible had, when God stated, 'I will be with you.'"
— Sarai Korpacz
NEW YORK, NEW YORK, UNITED STATES, January 11, 2023 /EINPresswire.com/ -- "Holy Ground," Sarai Korpacz's new song about placing trust in God while obediently following Him, will debut on January 12, 2023. For the first time, Korpacz will be sharing the mic with daughters Chloe and Daniella, ages 11 and 10, in a powerful intergenerational collaboration.
The song, references famed bible figures like Moses, Samuel, and Jacob, giving listeners new context and appreciation for their stories. All three responded "Here I am" to God. Korpacz comments, "We all have a purpose here on earth. As a Christian, I believe I am called to worship God. I also believe every Christian is called to tell others about Jesus."
Korpacz, a dual citizen of Nigeria and the US, prayerfully advocates for peace in these Nations. Korpacz, states "Nigeria is at the precipice of a new season. As elections are fast approaching, I feel this song will serve as a staple towards what God will do in our hearts. God was with Moses even though Moses could not fathom how he would complete the task ahead. So also, I believe the Lord is with His people in Nigeria. I pray we are united as a nation, so that God will do marvelous wonders, changing the course of history for Nigerians, that will leave generations from now astonished at what the Lord did in our time."
Korpacz, along with a team of 122 evangelists from all around the world, recently completed a three-and-a-half-month intensive training in crusade evangelism with the successor of Evangelist Reinhard Bonnke (RIP); Evangelist Daniel Kolenda through Kolenda's ministry Christ for All Nations. It culminated in a 3-week induction training in Ghana where the trainees witnessed thousands of salvations, miracles, signs, and wonders too numerous to count. "As a Christian singer, I've learned that evangelism is an extension of worship. We can all come from where we are in life and say 'Here I am' to God. We will then experience the comfort Moses in the Bible had, when God stated, 'I will be with you.'"
"Holy Ground" is written and produced by Korpacz. The song will be released across all major digital music platforms on January 12, 2023. Apple Music / iTunes listeners will be able to access the song in the groundbreaking immersive sound experience of Dolby Atmos. An accompanying music video will drop on YouTube and Korpacz's website the same day. To learn more, visit saraikorpacz.com or connect with her on Instagram, Twitter, Facebook, and YouTube.
About Sarai Korpacz
Christian artist Sarai Korpacz understands the true power of worship. She gave her life to Christ at the early age of six and started writing poems and songs as a teenager. Sarai has an educational background in law and finance. She creates upbeat, positive Christian music that spreads a simple message: worship God in spirit and truth. He is always there, no matter how rough the road is.
# # #
Sarai Korpacz
Sarai Korpacz
+1 917-202-1646
email us here
Visit us on social media:
Facebook
Twitter
Instagram
YouTube
TikTok
Other
Holy Ground by Sarai Korpacz (ft. Chloe Korpacz and Daniella Korpacz)