inHarmony Joins Leigh Steinberg's "For the Love of the Game" 2023 NFL Super Bowl Event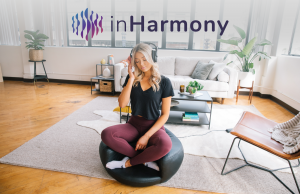 Tech-Assisted Meditation Cushions to Help you Relax and Improve Mental Health with Vibroacoustic Therapy
Honoring the best in sports who are making the world a better place.
SAN DIEGO, CALIFORNIA, UNITED STATES, January 17, 2023 /
EINPresswire.com
/ -- inHarmony, an innovative tech-assisted wellness company that makes vibroacoustic Meditation Cushions, Sound Lounges and Practitioner products is going to be showcasing at this year's event within THE BRAIN LOUNGE. This year marks the 10th Annual Brain Health Summit held at the party, which focuses on medical and mental health issues affecting athletes.
inHarmony's patented system of vibro-tactile stimulation and vibro-acoustic technology to induce a deep meditative state. A series of powerful speakers and drivers built into the cushions deliver frequencies that reverberate through your entire body — this enables users to connect internally and let go of stress.
"These are the world's best vibro-tactile stimulation and vibroacoustic sound cushions to relieve stress and anxiety." says Craig Goldberg, Co-Founder of inHarmony and President of inHarmony Interactive.
A key initiative for Leigh Steinberg is to support health innovation, treatment, and wellness modalities - particularly in the area of brain health. The Brain Lounge is a unique, curated space where guests can explore the future of wellness. It shines a spotlight on companies and organizations who provide products, solutions, and services to athletes, physicians, coaches, trainers, and human beings of all kinds.
inHarmony's long-time partner,
Advanced Wellness and Pain
is going to be on-site at the event to highlight the importance of using inHarmony cushions when providing compassionate care and support through psychedelic medicine and ketamine therapy to create life-changing experiences. "Ultimately, our goal is to raise awareness and shed light on the fact that psychedelic medicines show tremendous promise in helping to treat a variety of mental and physical conditions." says Dr. James Leathem "To alleviate suffering is our duty as physicians and being featured in the Brain Lounge is a huge honor for us."
"I'm proud that inHarmony, Steinberg Sports & Entertainment (SSE), and Advanced Wellness and Pain (AWAP) all share the foundational values of helping others and making a difference in their lives." says Craig Goldberg, Co-Founder of inHarmony and President of inHarmony Interactive "We look forward to celebrating our dedication to self-care, mental health, and overall wellness."
Inharmony will raffle off a FREE inharmony Meditation Cushion at this event! This high-quality meditation cushion is perfect for anyone looking to enhance their meditation practice. It's designed with comfort and support in mind, and is made with durable materials that will last for years to come. If you're interested in taking your meditation to the next level, be sure to visit inHarmony at the 36th Annual Leigh Steinberg Super Bowl Party, on Saturday February 11th, 2023 at Salt River Fields at Talking Stick within The Brain Lounge.
About inHarmony
inHarmony uses a patented system of tech-assisted sound and vibration therapies to quickly and comfortably put the user into a deep meditative state. The combination of Vibro-Tactile Stimulation and Vibro-Acoustic Technology delivers fast and effective whole body relaxation. The inHarmony community is on a mission to revolutionize America's approach to mental, physical, and spiritual well-being through sound and vibration. Say goodbye to a distracted mind. Download the app today.
Learn more:
www.iaminharmony.com
About Advanced Wellness & Pain
Advanced Wellness & Pain offers the latest in innovative new treatments for depression, anxiety, PTSD, substance abuse, chronic pain, and overall health and wellness. Advanced Wellness & Pain was founded to help bring psychedelic medicine and ketamine therapy treatments to those who need it the most. With the assistance of dedicated physician anesthesiologists who provide compassionate care and support, patients are able to find relief from symptoms and have positive life-changing experiences.
Learn more:
www.AdvancedWellnessAndPain.com
Raquel Figlo
Raquel Figlo Public Relations
raquel@raquelfiglo.com