Microelectronics, Advanced Packaging and U.S. Economy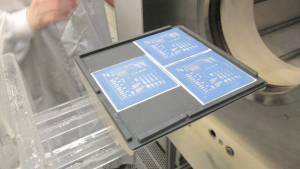 Microelectronics and Advanced Packaging, and How They Relate to the Current U.S. Semiconductor Economy
SAN DIEGO, CA, USA, January 4, 2023 /
EINPresswire.com
/ -- Over the past decade, the development of 5G has brought people closer than ever before. It enables remote working; corporate outsourcing and international trade have never been easier. At the same time, 5G and the new 6G have also brought the popularity of
microelectronics
and advanced packaging, especially an ancient technology, thick film hybrid.
5G (20-50GHz) and 6G (>100GHz) rely on high frequencies, requiring equipment that can withstand harsh environments and terrible heat. High reliability in harsh environments and excellent high-frequency performance make thick film hybrids perfect for automotive, mobile phones, and defense.
For supply and security reasons, the US is increasingly interested in making more semiconductors (such as dice) and microchips (such as thick-film hybrids) than ever before. Therefore, the United States introduced the CHIP act:
"The CHIPS and Science Act appropriates $52.7 billion to fund semiconductor incentive programs… $39 billion will fund a "Financial Assistance Program" for the semiconductor industry… the fabrication, assembly, testing, advanced packaging, production, or research and development of semiconductors, materials used to manufacture semiconductors, or semiconductor manufacturing equipment."
The die represents approximately 10% of the package value. The Chip Act would benefit not only bare dice but the entire microelectronics and advanced packaging industries. Taking the
belt furnace
industry (a continuous heat treatment equipment for packaging) as an example, this year our company is experiencing the peak of inquiry in the past ten years.
From our data summary, we know our customers are interested in:
• Enlarging production.
• Generating a new product line.
• Replacing old capital equipment.
• R&D purpose.
Most belt furnace users are in the packaging industry. The tax intensity of the US CHIP act benefits them both in production and R&D, including traditional thick film and its variants, hermetic sealing, SMT, solar panels, and electronics brazing. We are seeing great demand from the number of recent inquiries. We are also seeing increasing demand for battery powder sintering in push kilns. Because both cars and cell phones need batteries to power them.
Also, we expect a higher demand for those machines next year of the gathered information from our customers and in-person visit. In the 1980s and 1990s, there was an upsurge in the purchase of microelectronic packaging (like screen printers and belt furnaces) and advanced packaging equipment (like wire bonders) in the United States. A great portion of those microelectronic packaging machines is still in use. Both productivity and yield are lower than current market expectations. Therefore, the demand for these machines will be higher next year.
Ceramics has already replaced PCBs as the core of many products, bringing a reduction in size, and better dielectric, thermal, and microwave properties. Looking at the progress made in this seemingly "old" technology is fascinating. Let's now write the next chapter of this story together.
David Ma
TORREY HILLS TECHNOLOGIES, LLC
email us here
Visit us on social media:
Other