Altimmune to Announce Year End 2019 Financial Results on March 27
/EIN News/ -- GAITHERSBURG, Md., March 25, 2020 (GLOBE NEWSWIRE) -- Altimmune, Inc. (Nasdaq: ALT), a clinical-stage biopharmaceutical company, today announced that it will report financial results for the year ended December 31, 2019 and host a conference call on Friday, March 27, 2020.
About Altimmune
Altimmune is a clinical stage biopharmaceutical company focused on developing treatments for liver disease, immune modulating therapies and vaccines. Our diverse pipeline of product candidates includes next generation peptide therapeutics for NASH (ALT-801) and chronic hepatitis B (HepTcell™), conjugated immunostimulants for the treatment of cancer (ALT-702) and intranasal vaccines (NasoVAX™, NasoShield™ and AdCOVIDTM). For more information on Altimmune, please visit www.altimmune.com.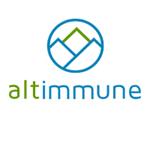 EIN Presswire does not exercise editorial control over third-party content provided, uploaded, published, or distributed by users of EIN Presswire. We are a distributor, not a publisher, of 3rd party content. Such content may contain the views, opinions, statements, offers, and other material of the respective users, suppliers, participants, or authors.