HEXO and the Ottawa Food Bank partner to provide more fresh food to people in need  
/EIN News/ -- GATINEAU, Quebec, May 16, 2019 (GLOBE NEWSWIRE) -- HEXO Corp ("HEXO" or the "Company") (TSX: HEXO; NYSE-A: HEXO) and the Ottawa Food Bank are pleased to collaborate to provide better access to healthy and sustainable food to the region.

The Ottawa Food Bank grows over 16 different varieties of vegetables and fruit at its Community Harvest farm in Stittsville.
Every year the Ottawa Food Bank grows over 100,000 pounds of fresh vegetables and fruit.
HEXO Corp has made a donation to the Ottawa Food Bank for the installation of solar panels to power cold storage at its farm in Stittsville. The solar power harnessed for the Ottawa Food Bank's refrigeration system increases its capacity to distribute fresh food across Ottawa and to reduce spoilage, waste and daily transport to its warehouse.
Fresh food represents 43% of the 5.5 million pounds of food that the Ottawa Food Bank delivers throughout Ottawa every year. In the summer, most fruit and vegetables distributed are from its farm. Last year alone, the Ottawa Food Bank grew more than 136,000 lbs of fresh local produce.
"The addition of cold storage at our farm will ensure we keep our produce fresh from the second we take it out of the ground," says Michael Maidment, CEO, Ottawa Food Bank. "This incredible donation from HEXO is a great contribution, making it possible for us to provide healthy, accessible, sustainable food for all who require emergency food assistance in our community."
In addition to its financial contribution, HEXO will also provide the Ottawa Food Bank with expert advice on solar energy, through Valerie Roux, HEXO's Director of Facilities and Security and a LEED certified professional.
"Our company is committed to supporting vulnerable people and to protecting the planet," says Terry Lake, HEXO's Vice-President of Corporate and Social Responsibility. "Partnering with the Ottawa Food Bank to improve access to fresh food through a renewable energy source is in total alignment with our corporate values."
"We are happy to say that the cold storage at the Ottawa Food Bank farm will be 'Powered by HEXO,'" concludes Michael Maidment.
About HEXO Corp 
HEXO Corp is an award-winning consumer packaged goods cannabis company that creates and distributes prize-winning products to serve the global cannabis market. Through its hub and spoke business strategy, HEXO Corp is partnering with Fortune 500 companies, bringing its brand value, cannabinoid isolation technology, licensed infrastructure and regulatory expertise to established companies, leveraging their distribution networks and capacity. As one of the largest licensed cannabis companies in Canada, HEXO Corp operates with 1.8 million sq. ft of facilities in Ontario and Quebec and a foothold in Greece to establish a Eurozone processing, production and distribution centre. The Company serves the Canadian adult-use and medical markets. For more information please visit hexocorp.com.  
About Ottawa Food Bank
The Ottawa Food Bank is the main emergency food provider in the National Capital Region. Through a network of 114 community food programs, the Ottawa Food Bank provides food for over 37,520 people per month – 36 per cent of whom are children. Thanks to the community's support, on average 12 to 14 tons of food is distributed from their Michael Street warehouse every weekday. For more information regarding the Ottawa Food Bank and how you can help provide healthy, accessible, sustainable food for all, please visit www.ottawafoodbank.ca
For further information, please contact:
Ottawa Food Bank:
Media Relations:  
Rachael Wilson
Director, Communications and Development
613.745.7001 x118
613-355-9182
rachael.wilson@ottawafoodbank.ca
HEXO:
Investor Relations:  
Jennifer Smith  
1-866-438-8429  
invest@HEXO.com  
www.hexocorp.com 
  
Media Relations:  
Caroline Milliard 
(819) 317-0526 
media@hexo.com 
  
Director:  
Adam Miron  
819-639-5498  

Photos accompanying this announcement are available at:

http://www.globenewswire.com/NewsRoom/AttachmentNg/67e6285a-441d-4697-973f-c04bea7a335d
http://www.globenewswire.com/NewsRoom/AttachmentNg/6a0f5002-4c49-43b4-9ff1-9d97b8382b35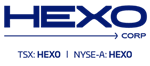 EIN Presswire does not exercise editorial control over third-party content provided, uploaded, published, or distributed by users of EIN Presswire. We are a distributor, not a publisher, of 3rd party content. Such content may contain the views, opinions, statements, offers, and other material of the respective users, suppliers, participants, or authors.