Boca West Country Club's Pam Elders qualifies for U.S. Women's Senior Open
Elders is Director of Golf Instruction at Boca West
BOCA RATON, Fla., May 16, 2019 (GLOBE NEWSWIRE) -- Boca West Country Club's Director of Golf Instruction, Pam Elders, has qualified for the U.S. Women's Senior Open, happening May 16-19 at Pine Needles Lodge & Golf Club in Southern Pines, NC.

/EIN News/ -- Ms. Elders, a Class A PGA Professional, has been with Boca West since 2002. She has received numerous honors over the years including Florida State high school state champion and All American 1977 and Junior College individual champion 1978. She graduated from the University of Miami (Education), serving for three years on the golf team. She missed qualifying for the LPGA tour by just one shot. She coached the St. Thomas University (Miami) men's golf team for two years and was named the head golf professional at the Club at Emerald Hills at age 25. 
"We wish Pam the best of luck at the U.S. Women's Senior Open! She is a beloved member of the Boca West family and our staff and members will be cheering her on," said Matthew Linderman, CCM, President, COO and General Manager of Boca West Country Club. 
"Pam is the consummate golf professional and we are so fortunate to have a player of her caliber leading the instruction at Boca West. Our members love training with Pam and value her guidance and her passion for golf," said Brad "JR" Friend, Director of Golf at Boca West. 
"I'm so excited to qualify for the U.S. Senior Open and have gotten so much support from the staff and members here at Boca West," said Ms. Elders. "I am honored to work at Boca West, which is known throughout the world for its superb golf facilities, and love helping our members with their game."
Boca West Country Club features four championship 18-hole golf courses designed by Pete Dye, Arnold Palmer and Jim Fazio, as well as a new $50 million golf and activities center.
About Boca West Country Club For more information, visit http://www.bocawestcc.org. To inquire about membership, please call 561.488.6934.
Media Contact: Elizabeth Kelley Grace
Elizabet@thebuzzagency.net, 561.702.7471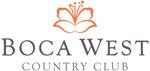 EIN Presswire does not exercise editorial control over third-party content provided, uploaded, published, or distributed by users of EIN Presswire. We are a distributor, not a publisher, of 3rd party content. Such content may contain the views, opinions, statements, offers, and other material of the respective users, suppliers, participants, or authors.