Greenpro Capital Corp. Plans Strategic Cooperation with Gang Tai Holdings Limited
Hong Kong, April 17, 2019 (GLOBE NEWSWIRE) -- Greenpro Capital Corp. (NASDAQ: GRNQ) ("Greenpro" or the "Company"), a multinational conglomerate with a diversified capital portfolio, today announced that it has entered into a Strategic Cooperation Agreement (the "Agreement") with Gang Tai Holdings Limited ("Gang Tai"), a conglomerate organization in Chengdu, on April 18th 2019, to launch Greenpro Capital financial services to cover the South Western Region of China.

Gang Tai, as a reputable conglomerate organisation in Chengdu, is expected to help generate great economic advantages for Greenpro through its successful businesses and strong resources and connections in Chengdu. Gang Tai's strong existence and resources can help Greenpro to build, develop and grow its financial services in the South Western Region rapidly.
Greenpro's development of the ADAQ (Asian Digital Automated Quotation platform), an integrated financial information market which identifies, builds, and streamlines corporate values for sustainable development, aims to help enterprises in the South Western Region of China comprised of Chengdu, Chongqing, Xian, Guiyang and Kunming, and other ASEAN countries, utilize the platform for opportunities to meet international financiers for sources of capital, to help internationalize their business, to help enterprises to go global and develop in accordance to social values that emphasize innovation and social responsibility.
/EIN News/ -- Greenpro's Southwest Headquarters in China will be setup with the following entities:
Greenpro Venture Capital and Incubating Centre: The centre will cooperate with local government-led funds to assist new-technology, new-financial and new-business companies to enhance their capital sourcing and management capabilities.
Greenpro One-Belt-One-Road (OBOR) Southwest Roadshow Centre: With support from the Greenpro Global OBOR Fund the centre will provide enterprises with a place to promote themselves to attract capital and talents.
Greenpro Capital Greater China Southwest Headquarters: The headquarters will provide regional enterprises with a full range of financial solutions, which includes overseas listing, investors matching, corporate management consulting, venture capital, trust management, financial management, asset management and wealth management.
Greenpro plans to nurture a closely knit Start-up + Financial ecosystem in Chengdu, which is highly populated, that will enable the city to host a community of companies that all have the same vision to be listed in overseas. With that, Chengdu will become more closely connected to the international community and we believe will put Chengdu on a path to develop into one of the most favoured cities in China, by international investors.
Greenpro Venture Capital Fund will cooperate with local government-led funds to empower enterprises with capital solutions. Under the current sophisticated fund management model - "Fund Accumulation, Capital Deployment, Portfolio Management, Return Harvesting", the fund will focus in developing strategic advantages in the following five areas: Business Restructuring, Product Financing Integration, Business Strategic Alliance, Merger and Acquisition, and Capability-driven strategies.
Over the next three years, Greenpro's incubator has a target to support and incubate approximately 200 enterprises through ADAQ; Greenpro will organise six cross-border resources integration workshops, helping 30 enterprises completing 1-to-1 resources integration in each workshop; Greenpro will help 100 enterprises complete international securitisation, creating a target of RMB100 billion market capitalisation; Greenpro will host three OBOR Southwest Resource Matching Conferences, together with two overseas study tours for entrepreneurs. Through the creation of bases for science & technology, financial, and literature & arts, Greenpro will create the Southwest financial centre that will improve the regional investment environment for technological, medical and health care, financial and tourism industries.
Greenpro Capital Corp. was listed on the NASDAQ Capital Market on 13 June 2018, possesses comprehensive set of licenses in Hong Kong, with rich experience in cross-border financing and international listing, Greenpro has assisted more than 40 enterprises listing overseas. In supporting this initiative, the government of Chengdu has provided great support to the plan, including granting investment incentives for enterprises in the incubator program, strong support for commercial bank loans, government subsidies and policy supports on several investment initiatives. 
About Greenpro Capital Corp.
Headquartered in Hong Kong with strategic offices across Asia, Greenpro Capital Corp. (the "Company") (NASDAQ: GRNQ), is a multinational conglomerate with a diversified capital portfolio. With 30 years of experience in the industry, Greenpro has been assisting and supporting businesses and High-Net-Worth-Individuals (HNWIs) to capitalize their value on a global scale through the provision of cross-border business solutions and accounting outsourcing services to small and medium-sized businesses located in Asia. The comprehensive range of cross-border business services include, but not limited to, trust and wealth management, fund and financial management, cross boarder listing advisory services, transaction services, record management services, accounting outsourcing services and tax planning. We also operate venture capital businesses including a business incubator for start-up and high growth companies to support such companies during critical growth periods, including education and support services, investment opportunities in selected start-up and high growth companies, and rental activities of commercial properties and the sale of investment properties. For further information regarding the Company, please visit http://www.greenprocapital.com
Forward-Looking Statements
This press release contains information about the Company's view of its future expectations, plans and prospects that constitute forward-looking statements. Actual results may differ materially from historical results or those indicated by these forward-looking statements as a result of a variety of factors including, but not limited to, risks and uncertainties associated with its ability to raise additional funding, its ability to maintain and grow its business, variability of operating results, its ability to maintain and enhance its brand, its development and introduction of new products and services, the successful integration of acquired companies, technologies and assets into its portfolio of products and services, marketing and other business development initiatives, competition in the industry, general government regulation, economic conditions, dependence on key personnel, the ability to attract, hire and retain personnel who possess the technical skills and experience necessary to meet the requirements of its clients, and its ability to protect its intellectual property. The Company encourages you to review other factors that may affect its future results in the Company's registration statement and in its other filings with the Securities and Exchange Commission.
                                                                 
For more information, please contact:
Company Contact:
Vincent Tan, Senior Vice President
Greenpro Capital Corp.
Email: vincent.tan@greenprocapital.com
Phone: +86-755-2558-7791
Investor Relations Contact:
Tina Xiao
Ascent Investor Relations LLC
Email: tina.xiao@ascent-ir.com
Phone: +1-917-609-0333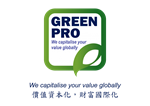 Distribution channels:

EIN Presswire does not exercise editorial control over third-party content provided, uploaded, published, or distributed by users of EIN Presswire. We are a distributor, not a publisher, of 3rd party content. Such content may contain the views, opinions, statements, offers, and other material of the respective users, suppliers, participants, or authors.