Invitation from Roderick E. Hubbard at Vernalis Research chairing SMi's Drug Discovery Conference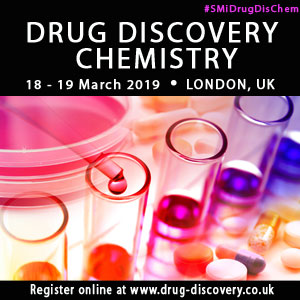 Event Chairman Roderick Hubbard from Vernalis personally invites you The 3rd Annual Drug Discovery Chemistry Conference, which is proudly sponsored by Selvita.
LONDON, LONDON, UNITED KINGDOM, January 17, 2019 /
EINPresswire.com
/ -- The two-day conference is returning to London, UK this year on the 18th and 19th March and aims to look beyond to the next generation of enabling tools and technologies enabling a more rational, fast and successful
drug discovery
.
Roderick E. Hubbard; Professor, University of York and Senior Fellow, Vernalis Research. Vernalis Research is based in Cambridge in the UK that focuses on developing and applying fragment and structure-based methods to solve problems in drug discovery.
Professor Hubbard has been an academic at York for over 35 years working with methods for analysis and exploitation of protein structure. Since 2001 he has split his time between Vernalis and York (fragment methods for chemical biology and industrial biotechnology). In addition, he works with UK Research Councils and consults with pharmaceutical and technology companies around the world.
On his personal invitation he mentions:
"The drug discovery field continues to undergo rapid change in response to the increased pressures of developing new therapies, reducing costs and avoiding late stage drug failure. As an industry, we continue to look for innovative methods to provide access to new target classes and to speed up and improve the drug discovery process. Although these new methods always sound compelling, it always takes some time and experience to realise their potential.
This Drug Discovery Chemistry Conference will feature presentations from scientists with expertise in many of the emerging methods and disciplines:
• Opportunities and applications for AI across the drug discovery process
• Hit ID –encoded libraries, fragments,
PROTACs, macrocycles, antibodies
• Optimising the process and enabling drug discovery for challenging targets
PLUS you can also attend the post-conference workshop (20th March 2019) on
Artificial Intelligence in Drug Discovery
, which is led by Dr Nick Camp, Drug Discovery Consultant at Nick Camp Consulting Ltd
You can visit the website and download the brochure from the website at:
http://www.drug-discovery.co.uk/PR3
Should you wish to join us the conference and/or workshop, you can register your place at
http://www.drug-discovery.co.uk/PR3
and save £100 expires this month.
For sponsorship opportunities please contact Alia Malick, Director on +44 (0) 20 7827 6168 or email amalick@smi-online.co.uk.
For media enquiries, contact Simi Sapal on +44 (0) 20 7827 6162 or ssapal@smi-online.co.uk
Drug Discovery Chemistry
Conference: 18th & 19th March 2019
Half-day post-conference workshop: 20th March 2019 - 8:30am to 12:30pm
Copthorne Tara Hotel, London, UK
http://www.drug-discovery.co.uk/PR3
Follow us @SMiPharm on Twitter
#SMiDrugDischem
---- END ----
About SMi Group: Established since 1993, the SMi Group is a global event-production company that specializes in Business-to-Business Conferences, Workshops, Masterclasses and online Communities. We create and deliver events in the Defence, Security, Energy, Utilities, Finance and Pharmaceutical industries. We pride ourselves on having access to the world's most forward-thinking opinion leaders and visionaries, allowing us to bring our communities together to Learn, Engage, Share and Network. More information can be found at
http://www.smi-online.co.uk
Simi Sapal
SMi Group
+1 2078276000
email us here

EIN Presswire does not exercise editorial control over third-party content provided, uploaded, published, or distributed by users of EIN Presswire. We are a distributor, not a publisher, of 3rd party content. Such content may contain the views, opinions, statements, offers, and other material of the respective users, suppliers, participants, or authors.