Tuberculin Market is expected to reach a market share of 304.73 million in 2023 at a CAGR of 5.5%.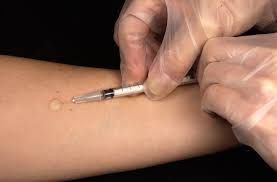 Tuberculin Market By -Segmented By Product Type, Application, And Region - Global Growth, Trends, And Forecast -2023
Technological advancements in Tuberculosis treatment is expected to enhance the competition in Tuberculin Market"
— Lead Analyst @ Market Data Forecast
HYDERABAD, TELANGANA, INDIA, December 5, 2018 /EINPresswire.com/ -- TB is short for Mycobacterium tuberculosis, or tuberculosis. Tuberculosis (TB) is an illness caused by a bacterial infection. Most people infected with TB have no sign of the disease as the bacteria are 'sleeping' or dormant. This is called TB infection (latent TB). This bacterium that tends to attack the lungs, but it can affect any part of the body, like the kidneys, the spine, or the brain. Some people with latent TB will develop TB disease (active TB). This can affect any part of the body but usually affects the lungs. In Australia, both active and latent TB can be treated.
The Global Tuberculin Market is projected to undergo a change from USD 233.16 million in 2018 to 304.73 million in 2023 at a CAGR of 5.5%.
The TST is a simple and safe test and side effects are uncommon. The side effects are mainly related to the size of the reaction and include swelling, redness and itchiness that may take a few weeks to clear. The test is done to find latent TB in a person who may have been exposed to someone diagnosed with active TB, to check if a person has latent TB infection before they start work at a health care facility, to check if a person has latent TB before they travel to a region where there are high rates of TB and to check the BCG vaccination is given to babies over 6 months of age.
View sample and decide: https://marketdataforecast.com/market-reports/tuberculin-market-7906/request-sample
Primary factors like increasing cases of Tuberculosis in APAC and favorable government policies which result in funding are driving the growth of Tuberculin market. Secondary factors like growing health awareness, urbanization, and rising economy of developing countries are also contributing towards improving the market. The results of the test are known to be affected by several other factors like existing illness, age and hence needs great care while interpreting. Also, technological advancements in Tuberculosis treatment is expected to enhance the competition in Tuberculin market.
However, possible side effects like itchiness, swelling, and pain at the site of injection are also few of the hindering factors of the market.
To know more read: https://marketdataforecast.com/market-reports/tuberculin-market-7906/
The complete report for the Global Tuberculin market provides all the information required for the decision making and investing opportunities based on the market size, revenue, history, current trends and future predictions. It also provides the deep sights of the global market based on the type, application and regional analysis, along with the competitive landscape.
On the basis of type, the market is separated into
• PPD-S
• PPD-RT23
PPD-S is the standard with respect to which several other versions of tuberculin are prepared because of its efficiency.
On the basis of application, the market is separated into
• Human use
• Animal use
• Others
Human use accounts for the largest share of the worldwide market and is expected to continue its reign in the future.
On the basis of regional analysis, the market is separated into
• North America
• Europe
• Asia Pacific
• Latin America
• Middle East and Africa
North America recorded the highest share for Global Tuberculin Market in the forecast period. It is followed by China, Southeast Asia, and India are some of the major markets both in terms of production and consumption. Nonetheless, the Asia Pacific region is anticipated to witness rapid growth in the CAGR during the forecast period. The growing economies and rise in disposable income in the developing economies like India, China and others will stimulate the market in Asia Pacific.
Get your customized report: https://marketdataforecast.com/market-reports/tuberculin-market-7906/customize-report
The top companies in the Global Tuberculin industry include Sanroad Biological, Japan BCG, Par Sterile, Snofi Pasteur, Zoetis, SSI, Thermo Fisher, CNBG, CZ veterinaria.
Scope of the report:
• Global, regional and country-level analysis and forecasts of the study market; providing Insights on the major countries/regions in which this industry is blooming and to also identify the regions that are still untapped
• Segment-level analysis in terms of technology, component, and type along with market size forecasts and estimations to detect key areas of industry growth in detail
• Identification of key drivers, restraints, opportunities, and challenges (DROC) in the market and their impact on shifting market dynamics
• Study of the effect of exogenous and endogenous factors that affect the global market; which includes broadly demographic, economics, and political, among other macro-environmental factors presented in an extensive PESTLE Analysis
• Study the micro environment factors that determine the overall profitability of an Industry, using Porter's five forces analysis for analyzing the level of competition and business strategy development
• A comprehensive list of key market players along with their product portfolio, current strategic interests, key financial information, legal issues, SWOT analysis and analyst overview to study and sustain the market environment
• Competitive landscape analysis listing out the mergers, acquisitions, collaborations in the field along with new product launches, comparative financial studies and recent developments in the market by the major companies
• An executive summary, abridging the entire report in such a way that decision-making personnel can rapidly become acquainted with background information, concise analysis and main conclusions
Related research study download free sample @ Advanced Wound Care Market, Anti-Aging Market
About Us:
Market Data Forecast is a firm working in market research and business intelligence. With rich experience in research across various business domains, we cater to the needs of both individual and corporate clients. With a well-established in-house team of experts from diverse fields and outsource research network across 100+ countries, we are the sole research providers for most of Fortune 500 companies. Along with the standards of reports being on par excellence, our unique services like free customization, analyst support for the period of six months post to the purchase will be the flag bearers and differentiates us from the rest.
Contact info:
Abhishek Shukla
Sales Manager (International Business Development)
Market Data Forecast
Direct Line: +1-888-702-9626
Mobile: +91 998 555 0206
Mail: abhishek@marketdataforecast.com
MAHANTH
Market Data Forecast
+1-888-702-9626
email us here