Aruba Airport to Deliver Briefing at the 12th Annual Border Security Conference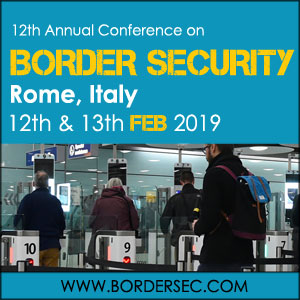 SMi Group Reports: The 12th annual Border Security Conference will return to Rome, Italy on the 12-13 February 2019
LONDON, UNITED KINGDOM, November 29, 2018 /
EINPresswire.com
/ -- With the world's leading airports adopting the application of biometric technology to achieve 'seamless and autonomous' border controls; as demonstrated by Aruba Airport's Happy Flow, the first 100 per cent self-service passenger experience, based on traveller-centric biometric technology, from kerb to boarding.
SMi Group are delighted to announce that Aruba Airport have confirmed they will be delivering a briefing at this year's,
12th Annual Border Security Conference
:
Ms. Annette Steenbergen, Coordinator Happy Flow and Preclearance, Government of Aruba
Presenting: 'Happy Flow': Enhancing Customer Experience While Ensuring Border Security with Innovative Border Technology
• Contemporary capacity and security challenges facing the airport industry and the role of technology in solving these
• Developing a passenger centric, seamless, secure, safe and financially sustainable airport ecosystem
• Creating passenger profiles by establishing a reliable chain of identity between airport stakeholders
• How to create this public private cooperation between stakeholders and address privacy/GDPR concerns
• Looking towards the future of Happy Flow as an international initiative
The
full agenda
is available to download at:
http://www.bordersec.com/ein
Taking place on the 12th and 13th February 2019 at the Crowne Plaza St Peter's Hotel & Spa, Rome, Italy, Border Security 2019 will provide the perfect platform to learn from and network with a high calibre audience who will discuss technological solutions and political strategies to implement next generation capabilities to secure land, air, and sea borders in response to growing global threats.
There will also be an evening networking reception hosted by Vancouver Airport Authority day-one at the conference.
The £100 early bird offer will expire on the 14th December.
To register online, visit:
http://www.bordersec.com/ein
Recent attendees include: George C. Marshall European Center for Security Studies, European Union Dedication to Turkey, Lund University, Portugese Navy, EU Lisa, Identity for Services, IOM - International Organization for Migration, Italian Navy, Finnish Customs, Borders & Immigration, Swedish Police Authority, P.G Court Consulate Congo, German Federal Police, Us Department of Homeland Security, Airpol, Italian State Police, Vancouver Airport Authority, Organization for Security and Co-operation in Europe, Europol, International Organisation for Migration, Interpol, Government of Aruba, Brussels Airport Company, Worldreach Software, Gatekeeper Intelligent Security, Cellebrite, Estonian Police and Border Guard Administration, National University of Public Service Fle, YVR, International Centre for Migration Policy Development (ICMPD), Swiss Border Guard
Sponsorship is open, should you wish to speak or exhibit at Border Security 2019, please contact Sadia Malick on: +44 (0) 20 7827 6748 or smalick@smi-online.co.uk
For delegate enquiries, contact James Hitchen on +44 (0) 20 7827 6054 or email jhitchen@smi-online.co.uk
The 12th Annual Border Security Conference
12-13 February 2019
Rome, Italy
GOLD SPONSORS: Gatekeeper Intelligent Security, SITA, Vancouver Airport Authority
SPONSORS & EXHIBITORS: Cellebrite, WorldReach Software
---END---
About SMi Group: Established since 1993, the SMi Group is a global event-production company that specializes in Business-to-Business Conferences, Workshops, Masterclasses and online Communities. We create and deliver events in the Defence, Security, Energy, Utilities, Finance and Pharmaceutical industries. We pride ourselves on having access to the world's most forward-thinking opinion leaders and visionaries, allowing us to bring our communities together to Learn, Engage, Share and Network. More information can be found at
http://www.smi-online.co.uk
Shannon Cargan
SMi Group
+1 2078276138
email us here

EIN Presswire does not exercise editorial control over third-party content provided, uploaded, published, or distributed by users of EIN Presswire. We are a distributor, not a publisher, of 3rd party content. Such content may contain the views, opinions, statements, offers, and other material of the respective users, suppliers, participants, or authors.