Agenda released for Military Robotics and Autonomous Systems conference 2019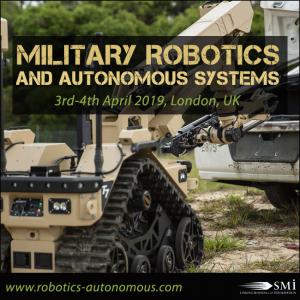 SMi reports: Registration has opened, and the agenda has been released for Military Robotics Autonomous Systems 2019
LONDON, WATERLOO, UNITED KINGDOM, November 21, 2018 /
EINPresswire.com
/ -- After the success of last year's launch, SMi will host its second annual
Military Robotics and Autonomous Systems (RAS) conference
, in April 2019, in London.
Register for the conference
by 14th December to save £400!
With the UK MoD having recognised the potential of Military Robotics and Autonomous Systems (RAS) to provide strategic superiority in military operations, the two-day conference will seek to further enhance and modernise the British Army's capabilities with new emerging technologies. Emerging technologies and their implication on future land warfare are vast and understanding the main issues behind land robotics is vital.
The UK MoD established 5 priorities in the development of RAS: Sustainability, Manoeuvrability, Situational Awareness, Lethality and Survivability. These five priorities are what Military Robotics and Autonomous Systems 2019 conference will revolve around. These will additionally encompass other main themes such as counter-IED, deep learning, AI, or communication systems.
Those who attend the conference can benefit from the latest updates on the UK MoD's Robotics and Autonomous Systems Enhancement Programmes; attend exclusive Military briefings from the United Kingdom, The United States, Finland, and the Netherlands; Discuss and debate the key role of unmanned technology in land operations through enhanced survivability, situational awareness, lethality, sustainability, and manoeuvrability; and benefit from a comprehensive approach to emerging land autonomous robotics with briefings from military, defence research and procurement agencies.
Opening the conference on day 1 will be keynote speakers Lieutenant Colonel Richard Craig, SO1 Coherence, Robotics and Autonomous Systems, British Army; Mr Charles E. Dean, Vice President of Sales, Endeavor Robotics; and Colonel Warren Sponsler, Deputy Director, Next Generation Combat Vehicle Cross Functional Team, US Army.
Opening the conference on day 2 will be keynote speakers Dr Robert Sadowski, Army Chief Roboticist Robotics ST, US Army RDECOM-TARDEC and Mr Peter Stockel, Innovation Autonomy Challenge Lead, DSTL, UK MoD.
New topics for 2019 include: CBRN Detection, Modularity, Advancements in Artificial Intelligence and Updates from the Robotics Complex Breach Concept.
Also new for this year, SMi will launch a dedicated
pre-conference workshop
hosted by Pardus Defence and Security, UK named 'Enhancing Dismounted Soldier Operations with Military RAS'. The workshop will be held on Tuesday 2nd April 2019 at the Holiday Inn, Kensington, London, UK.
To register for the conference, view the agenda and download exclusive content, visit
www.robotics-autonomous.com/
Sponsorship is now open, should you wish to speak or exhibit at Military Robotics and Autonomous Systems, please contact Justin Predescu on: on +44 (0) 207 827 6130 or email jpredescu@smi-online.co.uk
For delegate enquiries, contact Damien Howard on +44 (0) 20 7827 6736 or email dhoward@smi-online.co.uk
Military Robotics and Autonomous Systems
3rd-4th April 2019
London, UK
http://www.robotics-autonomous.com/ein
Gold Sponsor: Endeavor Robotics
Natasha Boumediene
SMi Group
+44 20 7827 6020
email us here

EIN Presswire does not exercise editorial control over third-party content provided, uploaded, published, or distributed by users of EIN Presswire. We are a distributor, not a publisher, of 3rd party content. Such content may contain the views, opinions, statements, offers, and other material of the respective users, suppliers, participants, or authors.