Business Opportunities and Market Outlook for Next Generation OSS and BSS revealed by Mind Commerce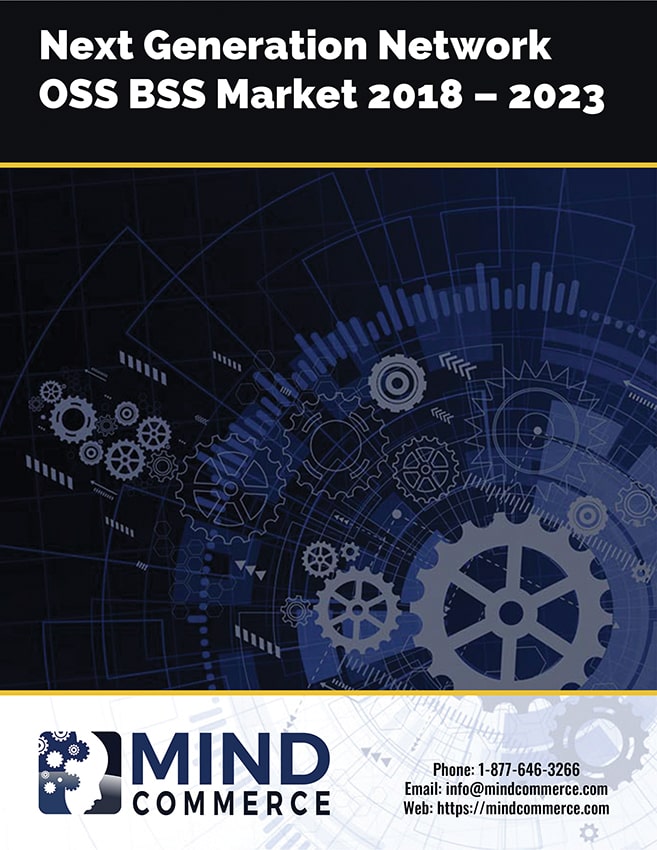 NGN OSS BSS Market
Most Comprehensive coverage of NGN OSS/BSS including 5G, Data Analytics, and IoT from 2018 to 2023
5G and IoT are Major Growth drivers for the NGN OSS BSS Market"
— Mind Commerce
SEATTLE, WA, USA, September 19, 2018 /EINPresswire.com/ -- Next Generation Network (NGN) Operational Support Systems (OSS) and Billing Support Systems (BSS) are required for a myriad of different reasons including OSS/BSS rationalization, next generation IP communications, and entirely new business models for Communication Services Providers (CSP) such as CSP support of various third parties including Over-the-Top (OTT) service providers.
CSPs have been upgrading their legacy OSS/BSS capabilities for many years. However, continuous enhancements are required as new networks, applications, services, and entirely new business models are emerging. For example, IoT Billing and Settlement represents a significant near-term growth area for Next Generation OSS/BSS. Longer-term, IoT Authentication and Authorization and the use of Blockchain will also emerge as a key area reliant upon NGN OSS.
NGN OSS/BSS will be critical for support of 5G for many reasons including facilitation of massive IoT deployment as well as QoS enforcement and billing for network slicing. This research includes detailed forecasts for 5G IoT, Network Slicing, and revenue outlook for NGN OSS/BSS for these and other emerging market opportunities. The global NGN OSS/BSS revenue outlook for 5G networks alone is $6.3 billion by 2023, growing at a CAGR of 45.3%. At the regional level, the Asia Pacific market is anticipated to lead with market value reaching $22.5 billion by 2023.
Building upon Mind Commerce coverage beginning in 2007, the report Next Generation Network OSS & BSS Market Outlook and Forecasts 2018 – 2023 provides the most comprehensive coverage of NGN OSS/BSS including opportunities driven by 5G, Data Analytics, and IoT.
The report provides comprehensive analysis of the drivers and issues related to the technical and business aspects of the Next Generation Network OSS BSS market, deployments and operations issues, and quantitative analysis with forecasts for anticipated growth through 2023 including IoT Platforms, IoT OSS/BSS, and IoT Data Management.
About Mind Commerce
Mind Commerce is an information services company that provides research and strategic analysis focused on the Information and Communications Technology (ICT) industry. Our ICT reports provide key trends, projections, and in-depth analysis for infrastructure, platforms, devices, applications, services, emerging business models and opportunities.
We focus on key emerging and disintermediating technology areas for service providers, technology providers, developers (communications, applications, content, and commerce), systems integrators and consultants, government organizations and NGOs, and the financial community. Visit us at https://mindcommerce.com/
MEDIA: We welcome discussions about our research in support of your news article, blog, or professional industry portal.
Contact us via email at Contact@MindCommerce.com or Call: +1 877 646 3266
Dawn Stokes
Mind Commerce
877-646-3266
email us here
Learn More about Mind Commerce

EIN Presswire does not exercise editorial control over third-party content provided, uploaded, published, or distributed by users of EIN Presswire. We are a distributor, not a publisher, of 3rd party content. Such content may contain the views, opinions, statements, offers, and other material of the respective users, suppliers, participants, or authors.