COLORADO WOMEN-OWNED PROTEIN BROKERS, LLC NAMED MASTER BROKER FOR "PRE-COOKED EGGS BRAND"

Protein Brokers, LLC , Pre-cooked Eggs Brand , Temptee Specialty Foods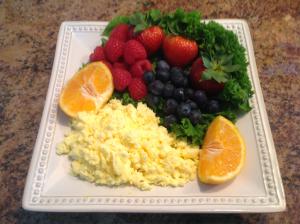 Pre-cooked Eggs Brand Cage Free Gourmet Eggs and Fruit
Pre-cooked Eggs Brand Cage Free Gourmet Scrambled Eggs
TEMPTEE SPECIALTY FOODS SELECTS COLORADO WOMEN-OWNED COMPANY PROTEIN BROKERS, LLC AS THEIR MASTER BROKER FOR PRE-COOKED EGGS BRAND, TEMPTEE AND OLDTIMER BRANDS
Temptee Specialty Foods is excited to appoint Colorado Woman-Owned and Managed Company Protein Brokers, LLC as their Master Broker for the Pre-cooked Eggs Brand, Temptee and Old Timer Brands"
— Jack Lowe President / CEO
DENVER, COLORADO, UNITED STATES, July 23, 2018 /
EINPresswire.com
/ --
Temptee Specialty Foods
has developed a UNIQUE COOKING AND PASTEURIZATION PROCESS that retains almost all of the moisture in the Pre-cooked Cage Free Eggs in their FDA / U.S.D.A. Inspected facility in Denver, Colorado without adding fillers, milk, corn starch,gums or other additives. The only ingredient added to the HICKMAN'S FAMILY FARMS CAGE FREE EGGS is a small amount of citric acid. The eggs are Pure Gourmet Scrambled Eggs and Pure Gourmet Egg Crumbles. For over 8 years Temptee has processed pre-cooked eggs for burrito manufactures.
The
Pre-cooked Eggs Brand
Cage Free Eggs can be used HOT or COLD in commercial burrito and taco manufacturing operations, hotels, restaurants, catering companies, catering trucks, salad companies, schools, sandwich making operations, C-stores, grocery store deli's, hospitals, senior living centers, buffets, salad bars, camping and backpacking, and egg diets of all kinds!
Protein Brokers, LLC
President Marlene Seward will be appointing retail and foodservice brokers Nationally for the Pre-cooked Eggs Brand Cage Free Eggs over the next few months to give local support to Foodservice Distributors, Retail Chains, C-stores, and Food, Sandwich, and Burrito Manufacturing Operations.
Pre-cooked Eggs Brand is owned by Egg Fundraising, LLC and Licensed to Temptee Specialty Foods to produce. The Pre-cooked Eggs Brand can also be purchased online in full pallet quantities with a credit card for companies wanting to receive their travel reward points. Prices are FOB Denver, Colorado and in ADDITION...Pre-cooked Eggs Brand will donate $0.05 cents per lb. to Easterseal Colorado to help kids and adults with disabilities in the buyers name or to any Charity or Organization that the buyer chooses.
Barney Seward
Protein Brokers, LLC
720-475-0330
email us here

EIN Presswire does not exercise editorial control over third-party content provided, uploaded, published, or distributed by users of EIN Presswire. We are a distributor, not a publisher, of 3rd party content. Such content may contain the views, opinions, statements, offers, and other material of the respective users, suppliers, participants, or authors.