A comprehensive overview of the Advanced Wound Care Market 2018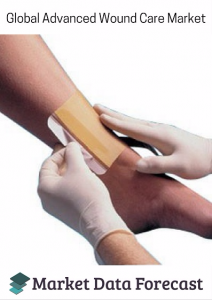 Advanced Wound Care Market By Type, Application, End User, Region - Global Industry Analysis, Size, Share, Growth, Trends, And Forecasts to 2023
The North America Advanced Wound Care Market has more significance with trends showing that people desire more efficient solutions for their illnesses."
— Lead Analyst @ Market Data Forecast
HYDERABAD, TELANGAANA, INDIA, July 4, 2018 /EINPresswire.com/ -- According to the latest industry report published by Market Data Forecast, the Global Advanced Wound Care market is estimated to be USD 9.04 Billion in 2018 and is predicted to grow at a steady annual growth rate of 4.48% to reach USD 11.025 Billion in 2023. Recent advancements in medicine explain that wounds can be healed quickly with dampness around it rather than drying. Implementing this explanation into practice, Advanced Wound Care management has sprouted lately. It was also confirmed that in order to achieve scar-free and quick healing, it is necessary to have some moisture around the wounds.
Most of the products that are used in this wound care process are the hydrogels, hydrocolloids, foam and film dressings, collagen products, alginate dressings, gauze composites, and others. These products are widely used for burns, leg ulcers, pressure ulcers, surgical wounds, venous ulcers and diabetic ulcers. The devices used in this process may encompass electrical stimulation devices, negative pressure wound therapy device, hyperbaric oxygen tools and others.
Request for sample report: https://www.marketdataforecast.com/market-reports/global-advanced-wound-care-market-110/request-sample
The most common problem in many developed nations is its geriatric population. The increasing age will cause several chronic problems in such people, and it is challenging for the governments to provide accurate medical care to them. Diabetes is one such problem that has become common in recent times. In the US alone, 25% percent of people over the age of 65 are suffering from diabetes. It is also evident that the amputation chances were 10 times higher for the people with diabetes than the normal. These two are the principal factors driving the global advanced wound care markets.
Other important growth drivers include increasing disposable income, traditional wound care issues, increasing chronic diseases, expenses involved in hospital admissions, raising physical activities, rapid treatments, government initiatives, the introduction of technology in medicine, sophisticated clinical infrastructure, and so on. However, the lack of awareness in remote areas, expensive treatment costs, proper healthcare in rural centers, and reimbursement policies may act as inhibitors to market growth.
View full report: https://www.marketdataforecast.com/market-reports/global-advanced-wound-care-market-110/
This report provides the useful insight into global advanced wound care market and its segregation based on type, applications, end-users, and geographical regions.
On the basis of type, the market is separated into
• Dressings
• Active Wound Care
• Therapy Devices
The dressings segment which includes hydrogels, hydrocolloids and other moist dressings' accounts for the largest market size and continues to lead with the prevalent ulcers. Active wound care is also growing at a rapid pace and will soon reach the dressings segment.
On the basis of applications, the market is separated into
• Surgical Wounds
• Burns
• Skin Ulcers
The surgical wounds segment is projected to lead the global advanced wound care market owing to the increased cases of diabetics and respective foot ulcers. The skin ulcers segment is also moving swiftly among the international markets.
On the basis of end-users, the market is separated into
• Inpatient Services
• Outpatient Services
A large number of hospitals and clinics around the world has made the Inpatient services segment to bag the highest share of the market revenue. However, with the raising interest for personal healthcare, outpatient services will soon outrun the former.
On the basis of regional distribution, the market is separated into
• North America
• Europe
• Asia Pacific
• Rest of the World
North America with its continuous investments in technology and healthcare, increasing number of aged population and the prevalence of dreadful diseases leads the global advanced wound care market with more than 35% of the total market size. Europe stands next in line to North America with Spain being the top contributor to the global markets. The Asia Pacific with its increasing investments in healthcare and growing awareness among public will surely open many unexplored markets.
Get Customized Report: https://www.marketdataforecast.com/market-reports/global-advanced-wound-care-market-110/customize-report
The market report also includes some of the key competitors of the market in the business line of providing advanced wound care equipment. Few of the market leaders are as follows,
• Smith and Nephew Plc.
• 3M Health Care
• Acelity L.P. Inc.
• Advancis Medical
• Baxter
• Medtronic
• Organogenesis Inc.
• Cardinal Health
• B.Braun Melsungen AG
• Coloplast
• Integra LifeSciences
• BSN Medical
• ConvaTec Group and others.
Acelity L.P. Inc is expected to dominate the world market for advanced wound care followed by many existing and yet to come organizations.
Recent trends in the market like the announcement of Smith and Nephew about European introduction of MolecuLight i:X in December 2017, which predicts the level of harmful bacteria around wounds can provide some new inspiration to the global advanced wound care markets and thereby providing a significant number of future opportunities for the worldwide market expansion.
About Us:
Market Data Forecast is a firm working in market research and business intelligence. With rich experience in research across various business domains, we cater to the needs of both individual and corporate clients. With a well-established in-house team of experts from diverse fields and outsource research network across 100+ countries, we are the sole research providers for most of Fortune 500 companies. Along with the standards of reports being on par excellence, our unique services like free customization, analyst support for the period of six months post to the purchase will be the flag bearers and differentiates us from the rest.
Contact info:
Abhishek Shukla
Team Lead (International Business Development)
Market Data Forecast
Direct Line: +1-888-702-9626
Mobile: +91 998 555 0206
Mail: abhishek@marketdataforecast.com
Sai Kutumbarao
email us here
Market Data Forecast
7680952236

EIN Presswire does not exercise editorial control over third-party content provided, uploaded, published, or distributed by users of EIN Presswire. We are a distributor, not a publisher, of 3rd party content. Such content may contain the views, opinions, statements, offers, and other material of the respective users, suppliers, participants, or authors.