Nanotechnology Market is estimated to grow at 16.87% CAGR to reach $28.99 billion by 2023.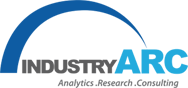 Nanotechnology Market
Europe had the second major Nanotechnology Market share, whereas Russia is an important regional player in nanotechnology development, followed by the APAC.
HYDERABAD, TELANGANA, INDIA, June 20, 2018 /
EINPresswire.com
/ -- HYDERABAD, India, May 3, 2018
Nanotechnology Market
According to the new market research report by
IndustryARC
titled "Nanotechnology Market: By Type (Nanocomposites, Nanofibers, Nanoceramics, Nanomagnetics, Others); By Application (Medical diagnosis, Energy, ICT, Nano-EHS); By End-Users (Electronics, Pharmaceuticals, Biotechnology, Textile, Military, Others); By Geography - (2018-2023)", the market is estimated to grow at 16.87% CAGR to reach $28.99 billion by 2023.
Americas continues to lead the market share during 2018-2023.
The Americas dominates the Nanotechnology Market, in which the U.S. is the largest market, whereas Brazil is set to witness a growth of 18.3% CAGR in the coming five years. Canada is expected to grow at a CAGR of 18.6% more than that of the U.S. growth of 15.1% CAGR. Given the world of Foxconns, America enjoys the current status of being the market leader for the nanotechnology based semiconductor market. As per IndustryARC, the next few years will see America fight for this position as China scales up its Nano manufacturing operations along with Russia. The military R&D in the U.S. is focused at miniature sensors, high-speed processing, unmanned combat aerial vehicles (UCAVs), improved virtual reality training, and enhancement of human performance.
Selected Product Analysis done in the full Report:
Nanocomposites segment dominates the market with a share of 65% in the overall market share. Also, it is the largest revenue generating segment and is estimated to grow from $7.27 billion in 2017 to $17.6 billion in 2023, growing at a CAGR of 58% during the forecast period. Factors such as high tensile strength, better optical and magnetic properties, high resistance to corrosion, high thermal and electronic conductivity surges the demand for nanocomposites in the electronic sector. Positive impact on growth is foreseen, owing to the supportive government regulations concerning the use of nanocomposites in food & beverage packaging. Automotive and beverage packaging are niche applications for nanocomposites. The R&D funding showcases its impact in a short span and the outcomes are reflected in areas such as new composites for aerospace applications, faster and safer chemical reactions (with new catalysts) in various production processes and more durable coatings and finishes for automotive applications.
To browse the table of contents of the report follow the link below:
https://industryarc.com/Report/15022/nanotechnology-market.html
Excerpts Growth Factors Mentioned in the Full Report:
1. Growing demand for efficient and cost-effective healthcare treatment and diagnostics propels the adoption of nanomaterials in drug delivery and medical devices sector, which in turn acts like a driving factor for the market growth.
2. Nanotechnology in medicine and health-care diagnosis has its major applications in different medical sectors like imaging, therapy and regenerative which are expected to drive market growth in the forecast period.
3. Nanotechnology in the ICT segment is estimated to experience a surge in demand in the near future due to the rising concerns about storage space and increased amount of information.
Talk to one of our sales representative about the full report by providing your details in the link below:
https://industryarc.com/support.php?id=15022
Key Players of the Nanotechnology Market:
Major companies in this market include Showe Denko K.K. (Japan), Cnano Technology Ltd (U.S.), Pen Inc. (U.S.), The Arkema Group (U.S.)
Companies Cited/Referred/Interviewed:
Glonatech S.A.
Zyvex Technologies Corporation NanoInk,Inc
GBNEUHAUS GMBH
Nanosys Inc.
Covestro AG
CNANO TECHNOLOGIES LIMITED
BASF SE
NANO-C INC.
NANOSPHERE INC.
Ablynx NV Nanophase Technologies Corporation
3M COMPANY
Nanophase Technologies Corporation
SHOWA DENKO K.K.
Company 14
Company 15
Company 16
Company 17
Company 18+
Related Reports:
A. Nanocoatings Market
https://industryarc.com/Report/15134/nano-coatings-market.html
B. Nanoencapsulation Market
https://industryarc.com/Report/16598/nanoencapsulation-market.html
Nanotechnology Market Report is segmented as indicated below.
Nanotechnology Market By Type of Resin:
1. Nanocomposites
I. Nanoparticles
II. Nanotubes
III. Nanoclays
2. Nanofibers
3. Nanoceramic Products
4. Nanomagnetics
5. Others
Nanotechnology Market By Applications:
1. Medicine and Healthcare Diagnosis
2. Environment
3. Energy
4. Information and Communication Technologies
5. Nano-EHS
Nanotechnology Market By End-User
1. Electronics and Semiconductor
2. Pharmaceuticals
3. Biotechnology
4. Textile
5. Military
6. Healthcare
7. Food
8. Automobile
9. Telecom and Information Technology
10. Aerospace
11. Others
Nanotechnology Market By Geography ( Covers 12+ Countries )
Nanotechnology Market Entropy
Company Profiles
Appendix: Abbreviations, Sources, Research Methodology, Bibliography, Compilation of Experts, Disclaimer.
What can you expect from the report?
The Nanotechnology Market Report is Prepared with the Main Agenda to Cover the following 20 points:
Market Size by Product Categories
Market trends
Manufacturer Landscape
Distributor Landscape
Pricing Analysis
Top 10 End user Analysis
Product Benchmarking
Product Developments
Mergers & Acquisition Analysis
Patent Analysis
Demand Analysis ( By Revenue & Volume )
Country level Analysis (15+)
Competitor Analysis
Market Shares Analysis
Value Chain Analysis
Supply Chain Analysis
Strategic Analysis
Current & Future Market Landscape Analysis
Opportunity Analysis
Revenue and Volume Analysis
To request for a proposal provide your details in the below link:
https://industryarc.com/subscription.php
About IndustryARC:
IndustryARC is a Research and Consulting Firm that publishes more than 500 reports annually, in various industries such as Agriculture, Automotive, Automation & Instrumentation, Chemicals and Materials, Energy and Power, Electronics, Food & Beverages, Information Technology, Life sciences &Healthcare.
IndustryARC primarily focuses on Cutting Edge Technologies and Newer Applications in a Market. Our Custom Research Services are designed to provide insights on the constant flux in the global supply-demand gap of markets. Our strong team of analysts enables us to meet the client research needs at a rapid speed, with a variety of options for your business.
We look forward to support the client to be able to better address their customer needs, stay ahead in the market, become the top competitor and get real-time recommendations on business strategies and deals. Contact us to find out how we can help you today.
Venkat Reddy
IndustryARC
6145888538
email us here