SHABAZZ SPEAKS TO HAWAII: RACE RELATIONS IN THE UNITED STATES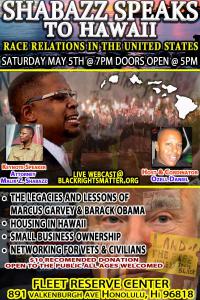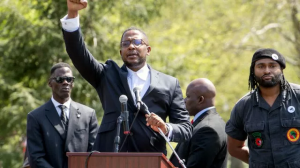 Attorney Malik Zulu Shabazz (center) speaks to those gathered outside the White House for the 10,000 Black Men's March on April 21. (Mark Mahoney/The Washington Informer)
Malik Zulu Shabazz keynotes race relations forum in Hawaii
WASHINGTON, DC, USA, May 3, 2018 /
EINPresswire.com
/ -- Invited by local activists and organizations, Attorney Malik Zulu Shabazz will keynote an upcoming forum in Hawaii on Saturday, May 5, 2018 at 7 pm (EST).
Some key points Attorney Shabazz will address are: (1) The legacies and lessons of Marcus Garvey and Barack Obama; (2) Housing in Hawaii; (3) Small business ownership and; (4) Networking for veterans and civilians. The forum will be webcast LIVE beginning 7 pm (EST) from the
www.blackrightsmatter.org
website. Malik Zulu Shabazz has a staunch message to deliver to the Islanders.
NAACP (Honolulu) President Alphonso Braggs is also invited along with others who are disturbed and have called for further dialogue to address current race relations in the United States.
Just over a week ago (April 18-22), Shabazz convened a 5-day National Black Men's Convention and Condemn Trump/Reparations White House Rally, which took place in front of the White House (Lafayette Park) – Washington, D.C.
Rally attendees were captivated and listened attentively as Shabazz passionately delivered his message: 'African Americans are confronted with a mélange of issues, including the widespread killing of primarily unarmed Black men, women and children by law enforcement; the troubling rise of bigotry, White privilege and nativism; racial profiling; police brutality; an increasingly hostile president and administration; and self-destructive behavior that impedes or stunts Black people's progress.' These realities are what prompted organizers to create a vehicle for change, not just in Washington, D.C., but across the country.
http://washingtoninformer.com/black-mens-conference-focuses-on-strategy-empowerment/
https://pjmedia.com/news-and-politics/cornel-west-so-many-of-our-black-elites-are-moral-midgets-spiritual-dwarfs/
.-END
Malik Zulu Shabazz, Esq.
Black Lawyers for Justice
301.513.5445
email us here
Atty Malik Zulu Shabazz States our case

EIN Presswire does not exercise editorial control over third-party content provided, uploaded, published, or distributed by users of EIN Presswire. We are a distributor, not a publisher, of 3rd party content. Such content may contain the views, opinions, statements, offers, and other material of the respective users, suppliers, participants, or authors.