Trilogy Brands Participates in the Future Investment Initiative Forum - Saudi Arabia is Open for Business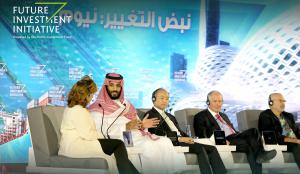 Fox News Maria Bartiromo Interview of HH The Crown Prince at the Future Investment Initiative in Riyadh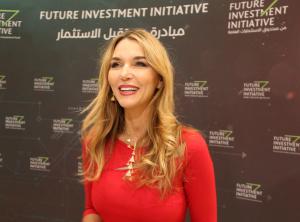 Saudi 2 News Television Interview of Barbara D'Amato at the Future Investment Initiative
Saudi 2 News Television Channel Interview at the Future Investment Initiative Forum
Barbara D'Amato Amidst Top Tier Global Business Leaders Honored to Participate in the Future Investment Initiative by the Public Investment Fund
We are honored and excited to work with the Public Investment Fund leveraging from a powerful US-Saudi collaboration as a participant in the historical transformation shaping the future of the Kingdom"
— Barbara D'Amato, CEO. Trilogy Brands Group
RIYADH, SAUDI ARABIA, December 29, 2017 /EINPresswire.com/ -- Riyadh. November 2017 -- The Saudi Arabian sovereign wealth fund: The Public Investment Fund (PIF) recently launched the Future Investment Initiative (FII), intended to explore investment trends, opportunities and challenges in the years ahead. The brightest minds in the industry, controlling over $22 trillion dollars of assets under management, were in attendance.
Barbara D'Amato, CEO of Trilogy Brands Group was invited by the Government of Saudi Arabia to participate in this historical forum among a select group of top-tier global business leaders, investors and thinkers from across the world, at the invitation of the Kingdom of Saudi Arabia's Public Investment Fund, one of the largest funds in the world with assets estimated at over $180 billion.
For the inaugural event, a number of high profile speakers and inspiring leaders were in attendance, including HH Mohammad Bin Salman Al Saud, Crown Prince and chairman of the Public Investment Fund; HE Yasir Othman Al Rumayyan, managing director PIF; Christine Lagarde, managing director of IMF; Nicolas Sarkozy, Former President of France; Tony Blair, former Prime Minister of UK; Larry Fink, chairman and CEO of BlackRock; Stuart Gulliver, group CEO of HSBC; David Bonderman, CEO of TPG; Ariana Huffington, CEO of Think Global and Board of Uber; Tong Li, CEO of Bank of China; Masayoshi Son, chairman and CEO of SoftBank Group; and Richard Branson, Founder of Virgin Group.
"We are honored and excited to work with the Public Investment Fund leveraging from a powerful US-Saudi collaboration as an active participant in this historical transformation shaping the future of the Kingdom and the world, in essence, creating a highway for the monetization of brand value on a global scale", added Barbara D'Amato.
The FII forum is not open to the public. Its immediate goal is to create regular events to be held over the course of the years to examine global business trends, ultimately, helping to shape PIF's investment strategy in line with the Kingdom's Vision 2030.
According to Arabian Business, PIF's managing director Yasir Bin Othman Al Rumayyan said: "The Future Investment Initiative will provide an unprecedented opportunity for many leaders and influencers around the world to better understand the future of the global investment landscape. It will also act as a platform to showcase the PIF's redefined investment mandate and strategy, as it progresses towards becoming the world's largest sovereign wealth fund."
Barbara Damato
Trilogy Brands Group
9499222295
email us here
It was a tremendous 3 days with our spectacular speakers and attendees at #FII2017, hear what CEOs & global investors think about it.