Covance discusses the US market access landscape for biosimilars.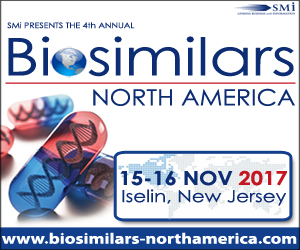 Visit www.biosimilars-northamerica.com/ein to register
ISELIN, NEW JERSEY, USA, September 20, 2017 /
EINPresswire.com
/ -- SMi Group has announced that Mr John Carlsen, Vice President at Covance, has joined the
speaker line-up
for the
4th annual Biosimilars North America
conference which takes place on November 15 & 16 in New Jersey.
John will present a session that reviews key CMS policy developments for biosimilars and understanding the potential impact on commercial payers' policies. He will highlight coding and Medicare payment for currently available products, with an aim to give insight on the link betwing coding/payment and pricing, as well as discuss what this means for biosimilars approved in the future. The presentation will also assess implications for reimbursement hubs, patient assistance programs and other customer support resources.
He joins a speaker line-up comprised of experts shaping up the biosimilars landscape in North America including representatives from Sandoz, Harvest Moon Pharmaceuticals, Momenta, Pfenex, FUJIFILM Diosynth, Oncobiologics, Adelio, Covance, Zuckerman & Spaeder and more.
The full roster of speakers and their topics can be found on
www.biosimilars-northamerica.com/ein
.
SMi's Biosimilars North America conference
will explore significant developmental topics within the sector including the impact of FDA's newly implemented biosimilar interchangeability guidelines, the US market access landscape, and biosimilars of orphan drugs.
Registration is now live on the event website and there For more information visit:
www.biosimilars-northamerica.com/ein
.
4th Biosimilars North America
November 15 & 16, 2017
Renaissance Woodbridge Hotel, Iselin, NJ, USA
--- END ---
For delegate registration enquiries, contact Fateja Begum on fbegum@smi-online.co.uk. For media enquiries, contact Honey de Gracia at hdegracia@smi-online.co.uk.
About SMi Group:
Established since 1993, the SMi Group is a global event-production company that specializes in Business-to-Business Conferences, Workshops, Masterclasses and online Communities. We create and deliver events in the Defence, Security, Energy, Utilities, Finance and Pharmaceutical industries. We pride ourselves on having access to the world's most forward-thinking opinion leaders and visionaries, allowing us to bring our communities together to Learn, Engage, Share and Network. More information can be found at
http://www.smi-online.co.uk
Honey de Gracia
SMi Group Ltd
+44 (0)20 7827 6102
email us here