North Andover Rotary Club to Host a Community Shred Day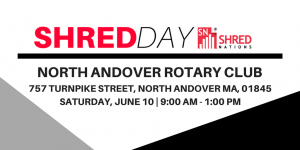 The North Andover Rotary Club, will host a shred day for residents of North Andover to shred their confidential documents securely.
NORTH ANDOVER, MA, US, May 31, 2017 /
EINPresswire.com
/ -- The North Andover Rotary Club, in partnership with Shred Nations, will be hosting a shred day for North Andover community residents to shred their confidential documents securely on Saturday, June 10, 2017 from 9:00 AM to 1:00 PM at 757 Turnpike Street, North Andover, MA, 01845 in the Stop and Shop parking lot. The Shred Day will occur rain or shine.
Community members are encouraged to bring their unwanted confidential documents – including banking statements, old tax return files, medical records, credit card receipts, etc. – to be shredded on site. Machine paper, letterhead, white tablet paper, computer printout paper, laser print paper, and other miscellaneous white paper and staples are accepted. VHS tapes, CDs and binders will not be accepted for shredding.
The cost of shredding will be $10/box of paper. These boxes can be standard copy paper boxes or bankers boxes. A bankers box typically holds 30 lbs. of paper. Industry average currently charges $30/box for shredding, making this Shred Day a cost-effective way to have large amounts of paper shredded securely and raise money for the community.
All payments will be made at the event in the form of cash or check written out to the North Andover Rotary Club. Additional donations will also be accepted at the event for ShelterBox, USA a Rotary partner in international disaster relief.
"As members and volunteers of the North Andover Rotary Club, we are committed to do all we can to make a difference in the lives of people who live and work in North Andover. This shred day is open to the public the convenience to dispose of personal and business documents with a secure system. Box fees collected will support our charitable work in North Andover and beyond."
Choosing to shred your confidential documents is a way for companies and homeowners alike to protect their information from potential risks of identity theft. Shred days are becoming more popular as a means for raising funds for nonprofits.
"At Shred Nations, we promote the safe destruction of your confidential information," said Rand LeMarinel, Vice President of Marketing at Shred Nations. "Our Shred Day program allows nonprofits and businesses to raise awareness and funds for their local community efforts. We are proud to take part in this great initiative."
Morgan O'Mara
Shred Nations
303-962-5580
email us here

EIN Presswire does not exercise editorial control over third-party content provided, uploaded, published, or distributed by users of EIN Presswire. We are a distributor, not a publisher, of 3rd party content. Such content may contain the views, opinions, statements, offers, and other material of the respective users, suppliers, participants, or authors.