Public Safety Market to Grow at a 39% CAGR Forecast to 2020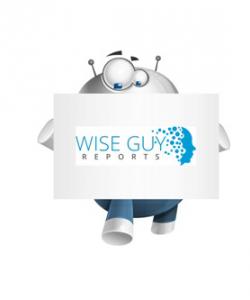 Public Safety Global Market Segmentation and Major Players Analysis and Forecast to 2020
PUNE, INDIA, February 17, 2017 /
EINPresswire.com
/ -- The
Public Safety
Market is estimated to grow at a CAGR of 39% over the forecast period 2015-2020. Public safety plays an important role in supporting economic growth and ensures prevention and protection from crime or disasters. Public safety improves quality of life and affects the attractiveness of a location for visitors, because threat of crime is taken as a signal for the lack of safety.
Request a sample report @
https://www.wiseguyreports.com/sample-request/473980-global-public-safety-market-growth-trends-forecasts-2014-2020
Facing increase in crime, natural disasters and security threats, government is finding it hard to tackle these problems and hence they are approaching towards a smarter way for public safety such as accessing and integrating the right data and enhanced situational awareness. With increasing demand for efficient public safety operations, there is an urging need for public safety.
Increased terrorist attacks, natural disasters like floods & earthquake and increased need for cyber security are some of the factors which are making the public safety market to grow lucratively in the forecast period. One of the major challenges for public safety agencies is to connect the existing resources more efficiently and spending with outcomes. Budget constraints and security issues are the factors hindering the growth of public safety market.
The progression of public safety demand is influenced by a wide range of factors from year to year. Public Safety Answering Point is the hub of emergency communications, and with public safety broadband, they will become even more necessary. Long term evolution is next step in mobile communications which uses a new technology for wireless communication and makes it suitable for real time applications over a long range of frequencies and can be deployed by large government organizations.
The Public safety market is segmented on the basis of Technology (Emergency response systems, managed services, critical infrastructure protection, secure wireless communications, large system integration and Others), Industry verticals (Aviation, land transportation, public events, natural disaster, industrial systems and Others), and geography (North America, Latin America, Asia Pacific, Europe, and Middle East & Africa).
The report also considers key trends that will impact the industry and profiles of leading suppliers of Public Safety Market. Some of the top companies mentioned in the report are CGI, Ericsson, Northrop Grumman, Telecommunication Systems, Cisco, Harris Corporation, General Dynamics, IBM, Raytheon, Siemens, Hitachi, Kratos Defense and Security Systems, NEC, Qualcomm, Sun Ridge Systems, TylerTech, Spillman Technologies, Telecommunications Development Corporation, Telstra, Ferranti, Samsung, Motorola, Nokia-Siemens, Alcatel-Lucent, HP and Others.
What the report offers
Market Definition for Global Public Safety Market along with identification of key drivers and restraints for the market.
Market analysis for the Global Public safety Market, with region specific assessments and competition analysis on a global and regional scale.
Identification of factors instrumental in changing the market scenarios, rising prospective opportunities and identification of key companies which can influence the market on a global and regional scale.
Extensively researched competitive landscape section with profiles of major companies along with their strategic initiatives and market shares.
Identification and analysis of the Macro and Micro factors that affect the Global Public safety Market on both global and regional scale.
A comprehensive list of key market players along with the analysis of their current strategic interests and key financial information.
Complete report details @
https://www.wiseguyreports.com/reports/473980-global-public-safety-market-growth-trends-forecasts-2014-2020
Key points in table of content
1. Introduction
2. Research Methodology
3. Market Dynamics
3.1 Market Overview
3.2 Key Findings
3.3 Market Drivers
3.4 Market Restraints
3.5 Market Opportunities
3.6 Market Trends
3.7 Government Policies
3.8 Industry Policies
3.8 Budget Allocation Analysis of Major Countries
4. Public Safety Breakdown by Technology
4.1 Emergency Response Systems
4.2 Managed Services
4.3 Critical Infrastructure Protection
4.4 Secure Wireless Communications
4.5 Large System Integration
4.6 Others
5. Public Safety Market Forecast and Trends by Component/Technology/Systems – 2014 to 2020
5.1 Emergency Response Systems
5.1.1 By Component
5.1.1 Introduction
5.1.2 Routers
5.1.3 Switches
5.1.4 Cameras
5.1.5 Sensors
5.1.6 Others
5.1.2 By System
5.1.2.1 Broadcasting System
5.1.2.2 Communications System
5.1.2.3 Surveillance System
5.1.2.4 Others
5.2 Managed Services by Type
5.2.1 Introduction
5.2.2 Managed Mobility
5.2.3 Managed Security
5.2.4 Managed Communications
5.2.5 Managed Network
5.2.6 Managed Infrastructure
5.2.7 Others
5.3 Critical Infrastructure Protection by Technology
5.3.1 Introduction
5.3.2 Network Security
5.3.3 Physical Security
5.3.4 Building Management Systems
5.3.5 Secure Communication
5.3.6 Others
5.4 Secure Wireless Communication
5.4.1 Introduction
5.5 Large System Integration
5.5.1 Introduction
5.5.2 Application Integration
5.5.3 Infrastructure Integration
5.5.3 Consulting
5.6 Others
5.6.1 Introduction
6. Public Safety Market Forecast and Trends by Industry Verticals – 2014 to 2020
6.1 Aviation
6.1.1 Introduction
6.1.2 Aviation Security Market by Public Safety Solutions
6.2 Land Transportation
6.2.1 Introduction
6.2.2 Land Transportation Security Market by Public Safety Solutions
6.3 Public Events
6.3.1 Introduction
6.3.2 Public Events Security Market by Public Safety Solutions
6.4 Natural Disaster
6.4.1 Introduction
6.4.2 Safety from Natural Disaster Market by Public Safety Solutions
6.5 Industrial Systems
6.5.1 Introduction
6.5.2 Industrial Systems Safety Market by Public Safety Solutions
6.6 Others
7. Public Safety Market Forecast and Trends by Geography – Segmented by Component/Technology/Systems
7.1 North America
7.1.1 United States
7.1.2 Canada
7.2 Latin America
7.2.1 Mexico
7.2.2 Brazil
7.2.3 Colombia
7.2.4 Others
7.3 Asia Pacific
7.3.1 China
7.3.2 Japan
7.3.3 India
7.3.4 Australia
7.3.5 South Korea
7.3.6 Singapore
7.3.7 Others
7.4 Europe
7.4.1 United Kingdom
7.4.2 Germany
7.4.3 France
7.4.4 Spain
7.4.5 Italy
7.4.6 Russia
7.4.7 Others
7.5 Middle East and Africa
7.5.1 United Arab Emirates
7.5.2 Saudi Arabia
7.5.3 Israel
7.5.4 Kuwait
7.5.5 Others
8. Vendor Profiles
8.1 CGI
8.2 Ericsson
8.3 Northrop Grumman
8.4 TeleCommunication Systems
8.5 Cisco
8.6 Harris Corporation
8.7 General Dynamics
8.8 IBM
8.9 Raytheon
8.10 Siemens
8.11 Hitachi
8.12 Kratos Defense & Security Solutions
8.13 NEC
8.14 Qualcomm
8.15 Sun Ridge Systems
8.16 TylerTech
8.17 Spillman Technologies
8.18 Telecommunications Development Corporation
8.19 Telstra
8.20 Ferranti
8.21 Samsung
8.22 Motorola
8.23 Nokia Siemens
8.24 Alcatel-Lucent
8.25 HP
Get this report @
https://www.wiseguyreports.com/checkout?currency=one_user-USD&report_id=473980
Contact US:
NORAH TRENT
Partner Relations & Marketing Manager
sales@wiseguyreports.com
Ph: +1-646-845-9349 (US)
Ph: +44 208 133 9349 (UK)
Norah Trent
wiseguyreports
+1 646 845 9349 / +44 208 133 9349
email us here