MYANMAR CONSTRUCTION NEWS: Myanmar Construction, Property & Furniture Expo in Yangon, organized by MiTA: 24-26Feb 2017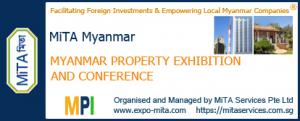 MiTA MYANMAR PROPERTY EXPO - REAL ESTATE EXHIBITION 2017
Myanmar Construction Expo
Myanmar Furniture Expo
Myanmar Construction Expo, Myanmar Property Expo, Myanmar Furniture Expo, Myanmar Real Estate Show & Myanmar Investment Summit @ YgTF 2017: 24-26 Feb in Yangon.
MiTA is uniquely well placed to assist and support foreign organizations in following up on investment and business opportunities that will ensue from these conferences and exhibitions in Myanmar.
— www.digitalmarketing.ink
WASHINGTON DC & YANGON, USA & MYANMAR, November 28, 2016 /
EINPresswire.com
/ --
MYANMAR CONSTRUCTION EXPO
,
MYANMAR REAL ESTATE EXPO
,
MYANMAR FURNITURE EXPO
:
Myanmar Construction Expo, Myanmar Property Expo, Myanmar Furniture Expo, Myanmar Real Estate Show & Myanmar Investment Conference (MPI @ YgTF 2017) will be held during 24-26 February 2017 at Tatmadaw Hall, Yangon, Myanmar. This is annual "MiTA Myanmar Property & Construction Expo and Conference" organized by MiTA "Myanmar Market Partner" for Myanmar Export-Import and JV-Investment since 2009.
EU Ambassador, Harvard Business School (HBS) and Singapore International Arbitration Center (SIAC) will also present along with UMFCCI and Myanmar Government Ministry officials during YgTF 2017. MiTA Myanmar Exhibitions and Conferences which were held in 2015 & 2016 were grand success.
CONSTRUCTION, REAL ESTATE & FURNITURE EXPO IN MYANMAR, website:
http://property-investment.mitamyanmar.com/
SUPPORTING-ORGANIZATIONS:
- HARVARD BUSINESS SCHOOL
- SIAC-SINGAPORE
- Department for International Trade (UK), Myanmar Office
- A-MCC (Australia-Myanmar Chamber of Commerce)
- Mandalay Region Chamber of Commerce and Industry
BROCHURE-Download:
http://mitamyanmar.com/download/myanmar-real-estate-building-material-construction-expo-ygtf1.pdf
- Price-List,
- MYANMAR CONFERENCE Agenda,
- Expo & Conference Hall-Layout,
- Expo-Booth-Facilities and
- Experience (Recommendation) in last Expo
PRICE till 6 January 2017
USD 3100 per 9 SQM (3mx3m) with standard booth-facilities
USD 500 per Conference Delegate with networking lunch & tea-coffee breaks
1.1 MYANMAR PROPERTY / REAL ESTATE
1.11 Real Estate Development
- Property Developers and Real Estate Project Owners
- Construction Companies
- Contractors and Builders
- Project Management Consultants
- Architects & Architecture Firms
- Town Planners & Urban Development Companies
1.13 Property Financing Companies
- Banks and Financial Institutions
- Financial Services Providers
- Real Estate Funds
- Insurance companies
- Mortgage Banks
1.12 Real Estate Services Providers
- Real Estate Consultancy Companies
- Property Agencies
- Engineering Companies
- Real Estate Market Research Firms
- Real Estate Appraisal, Research & Valuation Consultants
- Lawyers & Tax Consultants
- Auditing Companies
- Facility Management / Asset Management Companies
- Renting-Leasing Companies
- IT and Property Software Companies
- Advertising & PR Agencies
- Real Estate Education
- HR & Training Institutes / Companies
1.2 MYANMAR BUILDING MATERIAL
1.21 Architectural & Building Materials
- Building Hardware Materials
- Home Equipment & Home Appliances
- Bathroom & Sanitary Ware
- Sound Insulation & Solar Protections
- Solar Energy and Smart Building
- Automatic Control Systems for Doors and Windows
- Green Spaces & Plants, Special Irrigation & Fountain Equipment
1.22 Interior Decoration Material
- Modular Kitchen Materials & Equipment
- Facade Coverings, Roof-covers and Special Designs
- Wall and Ceiling Coverings
- Parquet Flooring, Wooden Tiles, Ceramic Tiles, Wall Papers, etc.
- Stone, Bricks
- Carpets, Decorative Lights
1.3 MYANMAR CONSTRUCTION
- Concrete Prefabricated Structures
- Earth Moving Machineries
- Soil Stabilizing Equipment
- Site dumpers & Trucking
- Underground Construction Eqpt.
- Batching Plants
- Paving & Materials Production Eqpt.
- Lifting & Concrete Placement Eqpt.
- Safety Equipment
1.4 MYANMAR FURNITURE & HOME EQUIPMENT
- Home Décor and Furnishings
- Wood Furniture and Furnishing
- Modular Furniture
- Modern and Avant-garde Furniture
- Office Furniture
- Furniture for Hospitals
- Bedroom Furniture
- Dining room Furniture
1.5 WATER TREATMENT & WASTE MANAGEMENT
- Water Purifiers
- Water Treatment Equipment
- Waste Disposal & Management Equipment
HOW TO JOIN THE CONFERENCE & EXPO IN MYANMAR?
Please email following information so that we can email you available booth-numbers and help you to do the online-registration:
- Your contact address and phone-number
- Your company's Contact person name, position, phone-number and email-address.
- Your full company name and address for invoicing purposes.
- How many exhibition-booths (each booth is 9 SQM) and conference delegate-tickets do you want to book?
Email: thazin@mitaservices.com.sg, mhc1@mita-myanmar.com
Phone: +95 9420 110 451, +95 9420 110 666
Dr. MADHAB PAUL, MANAGING DIRECTOR OF MiTA
www.madhabpaul.com
Dr. Madhab Paul, also speak about Opportunities in Myanmar in several international events. His recent speaking engagement was during "Russia & Asia Business Forum"; more info about the Forum:
http://raibf.com/en/home-page/
. Dr. Paul traveled extensively in India, USA, Germany, China, Singapore, Vietnam, Philippine, Thailand and Myanmar, as well as, many other countries which he visited for business / work / pleasure for a short period. He did PhD in Civil (Geo-technical) Engineering and has post-graduate education in Law & Management; also did "Doing Business in Emerging Market" a short course from Harvard Business School (HBS). Please email to: isbc@mitaservices.com.sg if you wish to invite Dr. Madhab Paul to speak at your international conference / private investor's meeting.
ORGANIZER: MiTA
MiTA is Myanmar Market Partner for Export-Import and JV-Investment in Myanmar. MiTA Myanmar @ ISBC is preferred Partner for JV-Investment, Export-Import, Real Estate (
www.mitaproperty.com
) and Manufacturing since 2011. MiTA Services Pte Ltd (Singapore) is providing consulting for investment and trade in Myanmar since 2009. MiTA's one of the major initiatives now is making "Made-In-Myanmar" brand:
www.1pya.com
Since 2014, to help you explore Myanmar Market, MiTA is organizing Myanmar Exhibitions, Myanmar Conferences and B-2-B Business Meetings. These events are the "Great Market Platforms" to initiate & grow Business in Myanmar. Supported by a PROMISE to help you find Distributors and JV-Investment Partners, trade Myanmar Market and get to know how to do business in Myanmar.
Think about "Doing Business in Myanmar" Property-Construction Sector, contact MiTA Myanmar; attend MiTA Myanmar Exhibition and Conference for Brand Promotion and Product Launch!
MiTA: MYANMAR MARKET PARTNER Since 2009
Welcome you all to MYANMAR, the land of new OPPORTUNITIES!
www.digitalmarketing.ink
DOING BUSINESS IN MYANMAR: Quick-Links
Advantages in Myanmar:
http://advantages-myanmar.com/
Myanmar-Trade-Investment News:
http://myanmarbusinessnews.mitamyanmar.com/
Myanmar Trade Fair in Mandalay:
http://mandalay-business.expo-mita.com/
Myanmar Investment Commission & MIC-Permit:
http://myanmarinvestmentbusiness.com/myanmar-investment-commission-mic-permit-company-registration-dica-directorate-of-investment-and-company-administration/
Company Registration in Myanmar:
https://mitaservices.com.sg/services/company-incorporation-in-myanmar/foreign-investment-mic-permit-dica-registration/
IEE-EIA-HIA-SIA-CSR in Myanmar:
https://mitaservices.com.sg/services/eia-sia-csr-consulting/
Techno-Commercial Due-Diligence in Myanmar:
https://mitaservices.com.sg/services/due-diligence-consulting/
JOBS-Recruitment in Myanmar:
http://mitajobs.com/
Myanmar FDA Registration:
http://myanmar-fda-registration.mitamyanmar.com/
Property Marketing in Myanmar:
http://mitaproperty.com/
Myanmar Oil & Gas Exploration, Charter-Hire Offshore Vessels, Fabrication & Installation:
https://mitaservices.com.sg/clients-projects-of-mita/
DIGITAL-MARKETING & GLOBAL-BRANDING:
www.digitalmarketing.ink
Myanmar Construction:
https://www.jetro.go.jp/j-messe/tradefair_en/MyanmarConstruction_54263
Myanmar Furniture:
https://www.jetro.go.jp/j-messe/tradefair_en/MyanmarFurniture_54258
Myanmar Construction, Real-Estate & Furniture Expo @ YgTF 2017, February 24-26: We invite your participation in case you are interested in "Doing Business in Myanmar" or exploring Property-Construction Market in Myanmar.
MiTA DIGITAL MARKETING INK http://digitalmarketing.ink
MiTA Services Pte Ltd
00959420110451
email us here