Los-Alamos-Townsite-Cleanup-Complete-at-TA-01
CONTACT: Steven Horak (505) 709-8156, steven.horak@em.doe.gov; Peter Hyde (505) 667-3792, pahyde@lanl.gov
LOS ALAMOS, N.M. — The U.S. Department of Energy Environmental Management Los Alamos Field Office (EM-LA) and Los Alamos National Laboratory (LANL) have completed a project to remove contaminated soil from four legacy waste sites along the south-facing slopes of Los Alamos Canyon adjacent to the Los Alamos Townsite.
The project began in early June 2016 and focused on completing sampling and cleanup of contaminated soil associated with former outfalls and surface disposal sites from the Manhattan Project. The small areas of contaminated soil were primarily within or directly adjacent to DOE property and were accessed through private property along the north rim of the canyon. Approximately 133 cubic yards of soil was excavated, bagged, screened, and transferred to a waste staging area on DOE property. The resulting waste was then transported off-site for final disposition at EnergySolutions' disposal facility in Utah.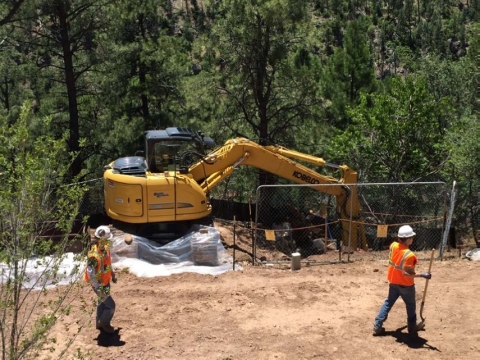 Workers stage equipment prior to removing contaminated soil.
"Removing contaminated soil from these four sites represents an important step in our cleanup efforts around the Los Alamos Townsite," said EM-LA Manager Doug Hintze.
The work was performed by TerranearPMC under a subcontract with Los Alamos National Security, LLC, the management-and-operating contractor for LANL. All project activities were completed under budget and ahead of schedule, and in accordance to specific regulatory, worker/public safety and health, and environmental protection requirements.
The project, consistent with the terms of the 2016 Compliance Order on Consent (Consent Order) between DOE and the New Mexico Environment Department, was part of a larger Historical Properties Completion Campaign. Plans are underway to complete sampling and cleanup work at the last remaining sites in the area in fiscal year 2017.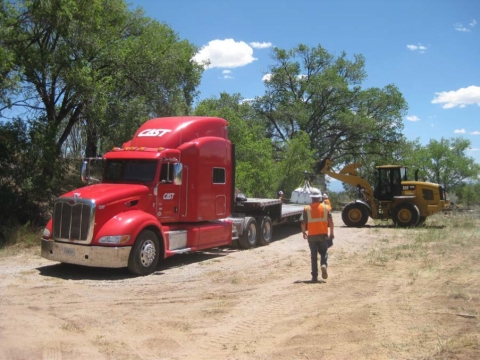 Bagged and screened soil was transferred to a DOE waste staging area before shipment to a licensed off-site disposal facility.