Biopolymer Packaging Market to Grow at a 24.67% CAGR Forecast to 2020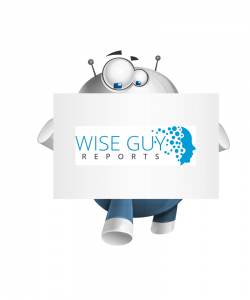 Global Biopolymer Packaging Market 2016 Share, Trend, Segmentation and Forecast to 2020
PUNE, INDIA, August 16, 2016 /
EINPresswire.com
/ -- Biopolymers are polymers that are biodegradable. There are majorly four types of biopolymer starch, sugar, cellulose, and synthetic materials. Recently, developments in biodegradable polymers and renewable input materials have become key focus to scale-up the production and enhance product properties. Biopolymers larger scale production will reduce prices and increase availability over the forecast period.
Complete report details @
https://www.wiseguyreports.com/reports/473911-global-biopolymer-packaging-market-forecasts-and-trends-2015-2020
Biopolymers have advanced properties that make them appropriate for use in protecting products from moisture, making products easier to distribute and increasing shelf-life. The use of cellophane (cellulose) for making packaging material has been present since long time because of its properties like transparency, high-quality folding properties, and biodegradability and can be composted by existing waste processing plant.
There are various types of Biopolymers such as polymers that are directly extracted from processed and biomass, polymers that are made by bacteria such as PHB, and PHA and polymers that are made from bio-based precursors such as PLA.
The global
biopolymer packaging
market is expected to witness compound annual growth rate (CAGR) of 24.67% from 2015 to 2020.
Request a sample report @
https://www.wiseguyreports.com/sample-request/473911-global-biopolymer-packaging-market-forecasts-and-trends-2015-2020
Biopolymer packaging market is basically driven by environmental concerns and higher energy costs. Certainly, biopolymers will rapidly grow in demand as consumers become aware of importance of reduced carbon footprint and its significance for industry and the environment. Environmental concerns and the increasing costs for fossil fuel products will result in shift towards biopolymer packaging products. Moreover, packagers, brand owners and retailers are adopting solutions which are sustainable and can be used to
The global biopolymer packaging market has been segmented on the basis of material type, product, end user, and geography. On the basis of material type market has been categorized into Polylactide (PLA), BIO-PE, BIO-PET and others. Further biopolymer packaging market has been sub-segmented according to products such as Biobased films, Biobased Containers, Pouches, plastic container and many others.
Replacing the oil-based packaging materials with biobased films and containers result in competitive advantage in biopolymer packaging market due to more eco-friendly and sustainable image, but also some advanced technical properties.
Numerous products are available in the biopolymer packaging market such as biobased Films, biobased containers, and others.
Biopolymer packaging market is highly competitive with some of the key participants being Albis Plastics, Acetati, Biome Bioplastics, Bayer MaterialScience, Biopearls, BIOTEC, Cardia Bioplastics (Biograde), Innovia Films, IFS chemicals, and others.
Make an enquiry before buying this Report @
https://www.wiseguyreports.com/enquiry/473911-global-biopolymer-packaging-market-forecasts-and-trends-2015-2020
Table of content
1. Introduction
1.1 Key Findings
1.2 Research Methodology
2. Executive Summary
3. Market Insights
3.1 Market Overview
3.2 Factors Driving the Market
3.2.1 Increasing Health Concerns
3.2.2 Government Green Procurement Policies
3.3 Factors Restraining the Market
3.3.1 Issue Related to Product Performance
3.3.2 Biopolymers Price are High related to Conventional Polymer
3.4 Industry Value Chain Analysis
3.5 Industry Attractiveness – Porter's Five Forces
3.5.1 Bargaining Power of Suppliers
3.5.2 Bargaining Power of Consumers
3.5.3 Threat of New Entrants
3.5.4 Threat of Substitute Products or Services
3.5.5 Competitive Rivalry among Existing Competitors
3.6 Current Opportunities in Market
4. Biopolymers Packaging Market- By Material Type
4.1 Polylactide (PLA)
4.2 BIO-PE
4.3 BIO-PET
4.5 Others
5. Biopolymers Packaging Market -By Products
5.1 Plastic Containers
5.2 Pouches
5.3 Biobased films
5.4 Biobased Containers
5.5 Others
6. Biopolymers Packaging Market - By End Users
6.1 Hotels and Restaurants
6.2 Institutional
6.3 Retail Stores
6.4 Others
7. Global Biopolymers Packaging Market -By Region
7.1 North America
7.2 Europe
7.3 Asia Pacific
7.4 Latin America
7.5 Middle East and Africa
8. Competitive Intelligence
9. Company Profiles
9.1 Albis Plastics
9.2 Acetati
9.3 Biome Bioplastics
9.4 Bayer MaterialScience
9.5 Biopearls
9.6 BIOTEC
9.7 Corbion
9.8 Cardia Bioplastics (Biograde)
9.9 IRE Chemicals
9.10 Meredian
9.11 Innovia Films
9.12 IFS chemicals
9.13 Grace Biotech
9.14 DaniMer Scientific
10. Investment Analysis
10.1 Recent Mergers and Acquisitions
10.2 Investor Outlook
11. Future of Global Biopolymers Packaging Market
Buy this report @
https://www.wiseguyreports.com/checkout?currency=one_user-USD&report_id=473911
Norah Trent
wiseguyreports
+1 646 845 9349 / +44 208 133 9349
email us here