Light Corp Unveils New Ultra-Smart LED High Bay Light Fixtures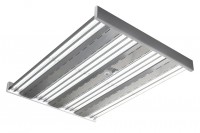 The DayStar is the newest technology in intelligent LED high bay control.
DLC certified fixtures offered in lumen packages up to 60,000 lm with optional built-in Kanepi Wireless Control.
GRAND HAVEN, MI, USA, November 11, 2014 /EINPresswire.com/ -- Light Corporation, the leader in intelligent lighting energy management systems, today introduces a new line of ultra-intelligent LED high bay lighting systems called DayStar. The product is designed, manufactured, and assembled from Light Corp operations facility in Grand Haven, Michigan, USA. Lighting industry experts project the DayStar to enable the reduction of an entire facility's lighting energy usage by up to 95%.
The DayStar LED is available in 9 different packages in 22" or 44" lengths, with light output performance from 6,000 to 60,000 lumens, and efficacy over 110 lumens per watt. Additionally featuring, modular & adjustable LED light bars, tool-less serviceability, an L70 rated lifetime of 100,000+ hours, a DLC Certification and a 10 year fixture warranty backed by Light Corporation.
The DayStar is the first LED high bay fixture to offer fully built-in integration of Kanepi Wireless Controls. This allows a facility to use energy only when, where, and to what extent is needed, automatically through 0-100% digital dimming, with pre-programmed and reactive energy optimization strategies.
"The DayStar with Kanepi is a completely wireless control system. Other wireless systems can only offer the ability to control a group of light fixtures wirelessly, then require wired-in repeater hardware to communicate to the next group of fixtures. Kanepi users control the entire facility from their laptop with a simple interface, all wirelessly, one fixture talking to the next, with no other repeater hardware needed," explains Justin Moorehead, Marketing Strategist of Light Corp. "These intelligent fixtures are installed like any other traditional light fixture, as if no controls were involved. The fixtures are simply hung and plugged in, in whichever order the contractor wants. We then take care of the rest giving you full control to group, schedule, dim, and sense (motion and daylight). This provides an opportunity for today's smart facility manager to reduce energy usage by up to 95% with a return on investment of approximately 2 years."
Light Corporation is an industry leader striving for customer astonishment with friendly customer service, short lead times and innovative, high quality, American-made energy management solutions. Visit us at www.lightcorp.com
Press release courtesy of Online PR Media: http://bit.ly/1uZXoE5
Justin Moorehead
Light Corp
6168443161
email us here

EIN Presswire does not exercise editorial control over third-party content provided, uploaded, published, or distributed by users of EIN Presswire. We are a distributor, not a publisher, of 3rd party content. Such content may contain the views, opinions, statements, offers, and other material of the respective users, suppliers, participants, or authors.