Indiana State Department of Agriculture and DICKEY-john Discuss Future Collaborations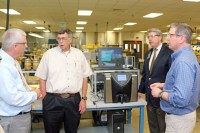 Directory McKinney and Auditor Goulet review the GAC 2500-UGMA test station during a visit to DICKEY-john's Auburn facility.
DICKEY-john's grain lab currently provides calibrations and validations of standard instruments used in the ISDA moisture instrument testing program.
AUBURN, IL, USA, June 4, 2014 /
EINPresswire.com
/ -- On May 13, 2014,
DICKEY-john
hosted a visit from Ted McKinney, Director of the Indiana State Department of Agriculture (ISDA) and Bob Goulet, Auditor of the Indiana Grain Buyers and Warehouse Licensing Agency (IGBWLA).
DICKEY-john's grain lab currently supports the IGBWLA, providing calibrations and validations of their standard instruments used in the moisture instrument testing program for the ISDA. DICKEY-john's GAC® 2500-UGMA instruments are used by IGBWLA and ISDA to ensure all
grain moisture testing instruments
used in the state of Indiana for buying, selling, or trading grain provide correct moisture measurement.
Director McKinney and Auditor Goulet met with DICKEY-john's management team and toured the production, engineering, service, and grain lab facilities. Director Ted McKinney stated, "On behalf of the State of Indiana and ISDA, I want to thank DICKEY-john for their assistance and support. ISDA places a very high value on its relations with DICKEY-john and will continue to work together to advance agricultural production and practices."
The DICKEY-john
GAC 2500-UGMA
is GIPSA-certified as UGMA-compatible. The GAC 2500-UGMA uses the newest analysis 149-MHz technology to provide repeatable NTEP-certified results. One of the key benefits of 149-MHz technology is the reduction of grain calibrations required to deliver precise results. Additionally, the GAC 2500-UGMA has more accurate temperature sensing capabilities to measure in extreme temperature conditions, including frozen and hot grain. Analysis time at the grain terminal is also reduced with the quick, easy-to-use touch screen interface.
About DICKEY-john Corporation
DICKEY-john Corporation is a privately-held division of TSI. Since 1966, DICKEY-john, based in Auburn, IL, has designed, manufactured, marketed, and supported products used in the agricultural and public works industries. Key products include sensors, monitors, and control systems for farming tractors and implements, city/state snow and ice control vehicles, and analytical instrumentation for grain moisture and constituent testing for global customers.
For more information on DICKEY-john Corporation, visit our website:
www.dickey-john.com
.
Press release courtesy of Online PR Media:
http://bit.ly/1iV8oaU
Danielle Ziemer
DICKEY-john Corporation
651-765-3709
email us here