ARCHIVES INTERNATIONAL AUCTIONS TO OFFER RARE CHINESE AND ASIAN BANKNOTES, SATURDAY, APRIL 12th, 2014 IN HONG KONG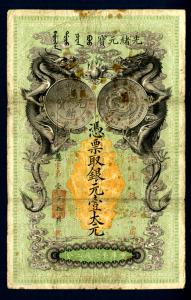 Hupeh Government Mint, 1899 Issue Rarity
International Banking Corporation, 1905, $10 High Grade Issued Note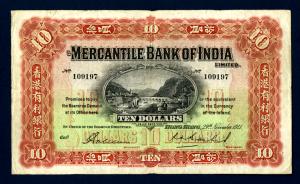 Hong Kong, 1941, Mercantile Bank of India $10
Archives International Auctions will conduct their second Hong Kong auction in association with Dynasty Auctions Company, Ltd.
...the collecting community has an insatiable appetite for fresh rare and exciting material
— Dr. Robert Schwartz, President of AIA
HONG KONG, CHINA, April 9, 2014 /
EINPresswire.com
/ -- Archives International Auctions, in association with Dynasty Auctions Company, Ltd., will offer hundreds of Chinese and Asian
banknotes
on Saturday, April 12, 2014, at the Harbor Plaza North Point Hotel in Hong Kong. The banknote session will occur on the second day of a spectacular three-day numismatic and philatelic event.
Included in the AIA portion of the auction, taking place on April 12, will be over 400 lots of rare, exciting and highly collectible Chinese and Asian banknotes, coins and scripophily (stock and bond certificates). The additional April 11 to 13 philatelic sales will be conducted by Dynasty Auctions Company, Ltd., which will feature important and rare Chinese, Japanese and Asian stamps and postal history in over 2000 lots in multiple sessions.
The undisputed headliner of the Banknote session held by Archives International Auctions will be a spectacular example of an 1899 Hupeh Government Mint rarity followed by numerous other rare banknotes seldom seen at auction. " We are also excited to be offering a substantial amount of fresh material to the collecting community which seems to have an insatiable appetite for fresh, rare and exciting material", stated Dr. Robert Schwartz, President of Archives International Auctions LLC. We are also offering additional selections from "The Hamtramck Collection", a fresh worldwide collection, untouched for over 40 years, with hundreds of rare notes and coins that will be offered in this and many subsequent auctions.
All of the auction lots will be available for viewing in Hong Kong at the Harbour Plaza North Point Hotel. Viewing hours are Wednesday through Friday, Apr. 9 to April 11, from 10am to 6pm and, from 10am to 2 pm, Saturday. The lots are also available online on AIA's website at
www.archivesinternational.com
.
Some additional highlights of the April 12th auction include "The Cuba Collection" of rare issued banknotes from China, ca. 1900 to 1920. There are 11 lots of rare Hong Kong banknotes, including the Mercantile Bank of India and also Chartered Bank of India, Australia & China. Other China highlights include a high grade "Board of Revenue, 1855, 3 Tael Banknote; 2 different Bank of Taiwan, 1949, 100 Yuan Issues; a Russo-Asiatic Bank, 1910 Harbin Branch $100 issued note; a spectacular pair of rarely seen Charhar Commercial Bank, high graded notes; a very high grade Yunnan Fu-Tien Bank, 1927 rarity and countless other individual lots that will be certain to attract considerable bidder attention.
The Harbour Plaza North Point Hotel is located at 665 King's Road, Northpoint, in Hong Kong. The April 12th, 2014 banknote session will start at 2:30 PM. Collectors unable to attend in person may participate live and online, through the Archives International Auctions website, at
www.archivesinternational.com
. The website also provides a link to a virtual catalog of all the lots as well as information on absentee bidding.
Archives International Auctions will also be accepting consignments for its Fall 2014 and Winter 2015 auction schedule of China, U.S. and worldwide banknotes, scripophily and rare coins to be held at the firm's Fort Lee, N.J., facility, at 1580 Lemoine Avenue (Suite 7). To consign one item or an entire collection, they can be reached at (201) 944-4800 or you can e-mail them at info@archivesinternational.com.
For more information about Archives International Auctions and the firm's April 12 Hong Kong sale or May 20 Fort Lee New Jersey sale, please visit their website at
www.ArchivesInternational.com
.
Dr. Robert Schwartz
Archives International Auctions LLC
201-944-4800
email us here

EIN Presswire does not exercise editorial control over third-party content provided, uploaded, published, or distributed by users of EIN Presswire. We are a distributor, not a publisher, of 3rd party content. Such content may contain the views, opinions, statements, offers, and other material of the respective users, suppliers, participants, or authors.