Automated Material Handling And Storage Systems Market to Reach $41.56 billion with 12.33% CAGR Forecast to 2021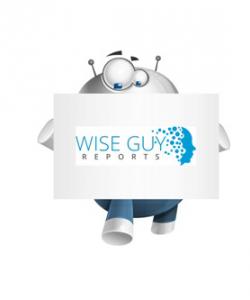 Automated Material Handling And Storage Systems Market 2017 Global Trends, Automated Guided Vehicles, By Automated Storage and Forecast to 2021
PUNE, INDIA, February 28, 2017 /
EINPresswire.com
/ -- The Global
'Automated Material Handling' and 'Storage Systems Market
1
' are poised to break into double-digit growth in 2014 again, after a slow growth in 2013. The market is estimated to grow at a CAGR of 12.33% to reach $41.56 billion by 2020 from the current estimate of $20.69 billion. Increasing competition and growing pressure on reducing costs is forcing the companies to adopt diverse technologies for their business operations. This has given rise to enterprises that are developing solutions to help their customers meet their goals like - simplifying different business processes, increase in productivity, thereby output along with reduction in costs. 'Automated Material Handling' is one such technology, which has changed the way various industries function. Moreover, the material handling industry is responding with new equipment, technologies, and systems that enable the complete supply chain visibility, thereby allowing their clientele to see how their investments in material handling technologies have a marked impact on their overall operation.
Request a sample report @
https://www.wiseguyreports.com/sample-request/474674-global-automated-material-handling-and-storage-geography-market-share-2015-2020
Saving the cost to the end-user and technological advancements are the major drivers making the automated material handling and storage systems market to grow lucratively. However, the growth of the automated material handling market is currently being hindered by the requirement of skilled personnel.
Automated material handling and storage systems such as automated guided vehicles, automated storage and retrieval systems, conveyor systems, pillarization system, sortation system, and software and services are progressively adopted by industries such as Healthcare, Retail, manufacturing, and Automotive. The growing technological propagation and amalgamation of automated material handling products with a vast kind of applications such as energy, healthcare etc. are the major factors driving the growth of the automated material handling market.
The Global Automated Material Handling and Storage Systems Market is segmented on the basis of Automated Guided Vehicles (Unit Load Carriers, Tow Vehicles, Pallet Trucks, Assembly Line Vehicles, Fork Lift Vehicles, Clamp Vehicles, and Others), Automated Storage and Retrieval Systems (Unit Load AS/RS, Mini Load AS/RS, Carousel-type Storage & Retrieval Systems, Robotic AS/RS, Tunnel Style Systems and Others), Application (Energy, Transport/Logistics, Healthcare, Retail, Manufacturing and Others), and Geography (North America, Europe, Asia Pacific and Rest of the World).
The report also considers key trends that will influence the industry and profiles over 13 leading suppliers of automated material handling and storage systems. Some of the vendors manufacturing these solutions mentioned in the report are Dematic Group (Luxembourg), FlexLink AB (Sweden), Mecalux, S.A. (Spain), SSI Schaefer (Germany), Intelligrated (Ohio) and Bosch Rexroth (Germany).
What the report offers?
Identification of key drivers and restraints of the Global Automated Material Handling And Storage Systems market
Market share assessment and competitive analysis
Identification of the market scenarios, opportunities and key companies
Extensively researched major companies' profiles along with their strategic initiatives and market shares
Identification & analysis of the macro and micro factors affecting this market
Identities of Key market players with their strategic interests and key financial information
Related Reports:
North America Automated Material Handling and Storage Systems Market By Automated Guided Vehicles, Automated Storage and Retrieval Systems, Industry Usage and Countries Market (2015- 2020)
Asia Pacific Automated Material Handling and Storage Systems Market By Automated Guided Vehicles, Automated Storage and Retrieval Systems, Industry Usage and Countries
Europe Automated Material Handling and Storage Systems Market By Automated Guided Vehicles, Automated Storage and Retrieval Systems, Industry Usage and Countries
Global Automated Guided Vehicles Market - By Industry, Types, Vendors and Geography - Market Shares, Forecasts and Trends (2015 - 2020)
Complete report details @
https://www.wiseguyreports.com/reports/474674-global-automated-material-handling-and-storage-geography-market-share-2015-2020
Key points in table of content
1. Introduction
1.1 Description
1.2 Research Methodology
1.3 Report Outline by Type, Industry Usage and Geographies Covered
2. Executive Summary
3. Market Overview
3.1 Current Market Scenario
3.2 Applications of automation and control systems
3.3 Factors Driving the Market
3.3.1 Technological Advancements
3.3.2 Increasing Focus on Workplace Safety
3.3.3 Intense Competition
3.4 Factors Restraining the Market
3.4.1 Initial Investment is High
3.4.2 Replacement of Humans & Requirement of Skilled Personnel
3.5 Current Opportunities in the Market
3.6 Technology Snapshot
3.7 Porter's Five Forces
3.7.1 Bargaining Power of Suppliers
3.7.2 Bargaining Power of Consumers
3.7.3 Threat of New Entrants
3.7.4 Threat of Substitute Products and Services
3.7.5 Competitive Rivalry within the Industry
4. Automated Guided Vehicles Systems Market Breakdown by Type – Market Share, Forecast
4.1 Unit Load Carriers
4.1.1 Introduction
4.1.2 Market Share, Size and Forecast
4.2 Tow Vehicles
4.2.1 Introduction
4.2.2 Market Share, Size and Forecast
4.3 Pallet Trucks
4.3.1 Introduction
4.3.2 Market Share, Size and Forecast
4.4 Assembly Line Vehicles
4.4.1 Introduction
4.4.2 Market Share, Size and Forecast
4.5 Fork Lift Vehicles
4.5.1 Introduction
4.5.2 Market Share, Size and Forecast
4.6 Clamp Vehicles
4.6.1 Introduction
4.6.2 Market Share, Size and Forecast
4.7 Others
4.7.1 Introduction
4.7.2 Market Share, Size and Forecast
5. Automated Storage & Retrieval Systems Market Breakdown by Type – Market Share, Forecast
5.1 Unit Load AS/RS
5.1.1 Introduction
5.1.2 Market Share, Size and Forecast
5.2 Mini Load AS/RS
5.2.1 Introduction
5.2.2 Market Share, Size and Forecast
5.3 Carousel-Type Storage & Retrieval Systems
5.3.1 Introduction
5.3.2 Market Share, Size and Forecast
5.4 Robotic AS/RS
5.4.1 Introduction
5.4.2 Market Share, Size and Forecast
5.5 Tunnel - Style Systems
5.5.1 Introduction
5.5.2 Market Share, Size and Forecast
5.6 Others
5.6.1 Introduction
5.6.2 Market Share, Size and Forecast
6. Automated Material Handling Market by Industry – Market Share, Forecast
6.1 Energy
6.1.1 Introduction
6.1.2 Market Share, Size and Forecast
6.2 Transport/Logistics
6.2.1 Introduction
6.2.2 Market Share, Size and Forecast
6.3 Healthcare
6.3.1 Introduction
6.3.2 Market Share, Size and Forecast
6.4 Retail
6.4.1 Introduction
6.4.2 Market Share, Size and Forecast
6.5 Manufacturing
6.5.1 Introduction
6.5.2 Market Share, Size and Forecast
6.6 Others
6.6.1 Introduction
6.6.2 Market Share, Size and Forecast
Get this report @
https://www.wiseguyreports.com/checkout?currency=one_user-USD&report_id=474674
Contact US:
NORAH TRENT
Partner Relations & Marketing Manager
sales@wiseguyreports.com
Ph: +1-646-845-9349 (US)
Ph: +44 208 133 9349 (UK)
Norah Trent
wiseguyreports
+1 646 845 9349 / +44 208 133 9349
email us here
1 https://www.wiseguyreports.com/sample-request/474674-global-automated-material-handling-and-storage-geography-market-share-2015-2020