Agricultural Micro Irrigation Machinery Market to Reach $4,909.49 million with 17.2% CAGR Forecast to 2020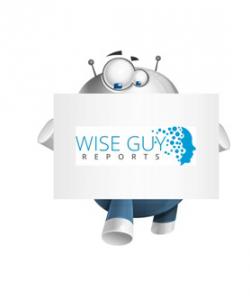 Agricultural Irrigation Machinery Market 2017 Global Trends, Market Share, Industry Size, Growth, Opportunities and Forecast to 2022
PUNE, INDIA, March 17, 2017 /
EINPresswire.com
/ -- Water is the basic agricultural input required in any type of geographical segments. Before the advent of mechanization, farmers depended on natural sources for irrigation. However, mechanization in agriculture has moved well past tractors, to encompass every aspect in the crop production cycle.
Request a sample report @
https://www.wiseguyreports.com/sample-request/365034-global-agricultural-irrigation-machinery-market-by-type-application-and-geography-market-shares-forecasts-and-trends-2015-2020
Irrigation mechanization is one of the newest advances made in agriculture. The latest segment in irrigation mechanization include sprinkler and drip irrigation that are further explained on component basis. Such mechanization not only increases productivity and yield per hectare, it reduces the water consumption per farm.
The market size of the micro
irrigation machinery
market is expected to reach around US$ 4,909.49 million by 2020. The expected CAGR is around 17.2 % over 2015-2020. In the present agricultural scenario water scarcity is a major challenge and a key driver for the use of micro irrigation machinery systems. In majority of the country water scarcity leads to deteriorate in the food production in quality and quality wise. Fragmented land needs a controlled amount of water where the irrigation system proved fruitful. Irrigated land is twice productive than the rain fed land.
Majority of the farmers are small holdings farmers and thus cannot able to afford the sophisticated irrigated machineries. Some of the tropical countries where most of the agricultural lands are rain fed irrigations systems useful for a few period of time not much. And customization according to the geography, crop is quite challenging. People belonging to rural areas with lower than average income are skeptical to use the advanced machinery where promotions failed without local networks.
The major companies in the irrigation machineries industries are Nelson Irrigation Corporation, Netafim Limited, Epc Industries, Jain Irrigation Systems Ltd., T-L Irrigation Co., The Toro Company, Valmont Industries, Inc., Deere & Company, Lindsay Corporation, and Rain Bird Corporation. The companies are expanding their business mainly to the developing countries and some countries of South Africa where they are having the thirst of Mechanist ions.
In this report we offer
• Market analysis for the Global Agricultural Irrigation Machinery Market, with region specific assessments and competition analysis on global and regional scales.
• Market definition along with the identification of key drivers and restraints
• Identification of factors instrumental in changing the market scenarios, rising prospective opportunities, and identification of key companies that can influence this market on a global and regional scale
• Extensively researched competitive landscape section with profiles of major companies along with their market shares
• Identification and analysis of the macro and micro factors that affect the Global Agricultural Irrigation Machinery Market on both global and regional scales
• A comprehensive list of key market players along with the analysis of their current strategic interests and key financial information
• A wide-ranging knowledge and insights about the major players in this industry and the key strategies adopted by them to sustain and grow in the studied market
• Insights on the major countries/regions in which this industry is blooming and to also identify the regions that are still untapped
Complete report details @
https://www.wiseguyreports.com/reports/365034-global-agricultural-irrigation-machinery-market-by-type-application-and-geography-market-shares-forecasts-and-trends-2015-2020
Key points in table of content
1. INTRODUCTION
1.1 Research Methodology
1.2 Definition of the Market
1.3 Assumptions
2. KEY FINDINGS OF THE STUDY
3. MARKET DYNAMICS
3.1 Introduction
3.2 Drivers
3.2.1 Rising water scarcity and costs of water
3.2.2 Increase awareness for the use of micro irrigation for water conservation
3.2.3 High efficiency with negligible efforts
3.3 Constraints
3.3.1 High price
3.3.2 Less returns in the tropical countries
3.3.3 Technological constraints
3.4 Opportunities
3.4.1 Water Management through technological upgradation
3.4.2 Untapped Asia-Pacific & South American market
3.5 Porter's Five Forces Analysis
3.5.1 Bargaining Power of Suppliers
3.5.2 Bargaining Power of Buyers
3.5.3 Threat of New Entrants
3.5.4 Threat of Substitute Products and Services
3.5.5 Degree of Competition
4. MARKET SEGMENTATION
4.1 By Irrigation types
4.1.1 Sprinkler Irrigation
4.1.1.1 Pumping unit
4.1.1.2 Tubing
4.1.1.3 Coupler
4.1.1.4 Spray/sprinklers heads
4.1.1.5 Fittings and accessories
4.1.2 Drip Irrigation
4.1.2.1 Valves
4.1.2.2 Backflow Preventors
4.1.2.3 Pressure regulators and valves
4.1.2.4 Fittings and accessories
4.1.2.5 Filters
4.1.2.6 Emiters
4.1.2.7 Mainline
4.1.2.8 Sub-main
4.1.2.9 Drip tubing/hose
4.1.2.10 Drip tube fittings
4.1.2.11 Air vent
4.2 By Geography
4.2.1 North America
4.2.1.1 U.S.
4.2.1.2 Canada
4.2.1.3 Mexico
4.2.1.4 Others
4.2.2 Europe
4.2.2.1 Germany
4.2.2.2 U.K.
4.2.2.3 France
4.2.2.4 Spain
4.2.2.5 Italy
4.2.2.6 Others
4.2.3 Asia-Pacific
4.2.3.1 China
4.2.3.2 Japan
4.2.3.3 India
4.2.3.4 Australia
4.2.3.5 Others
4.2.4 South America
4.2.4.1 Brazil
4.2.4.2 Argentina
4.2.4.3 Other
4.2.5 Africa
4.2.5.1 South Africa
4.2.5.2 Others
5. Competitive Landscape
5.1 Mergers & Acquisitions
5.2 Joint Ventures
5.3 New Product Launches
5.4 Most active companies in the past five years
5.5 Market Share Analysis
6. Company Profiles
6.1 Nelson Irrigation Corporation
6.2 Netafim Limited
6.3 EPC Industries Limited
6.4 Jain Irrigation Systems Ltd.
6.5 T-L Irrigation Co.
6.6 The Toro Company
6.7 Valmont Industries
6.8 Deere & Company
6.9 Lindsay Corporation
6.10 Rain Bird Corporation
6.11 Rivulis Irrigation
7. Appendix
7.1 Sources
7.2 Disclaimer
Get this report @
https://www.wiseguyreports.com/checkout?currency=one_user-USD&report_id=365034
Contact US:
NORAH TRENT
Partner Relations & Marketing Manager
sales@wiseguyreports.com
Ph: +1-646-845-9349 (US)
Ph: +44 208 133 9349 (UK)
Norah Trent
wiseguyreports
+1 646 845 9349 / +44 208 133 9349
email us here