Seeds Market expected to reach $55.3 billion with 11.2% CAGR to 2021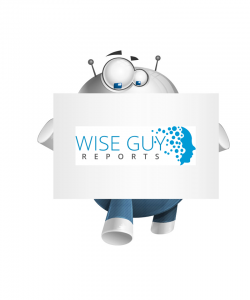 Seeds Global Market 2016 Analysis and Forecast to 2021
PUNE, INDIA, September 22, 2016 /
EINPresswire.com
/ -- The Global Seeds Market accounted for $26.2 billion in 2015 and is poised to reach $55.3 billion by 2022 growing at a CAGR of 11.2% from 2015 to 2022. Growing population which in turn increases the demand for food, widespread use of biotechnology in
seed
development and technology driven agricultural farming are some of the factors fueling the market growth. The key features such as growing demand of vegetables, oils, and grains, growing farm expenditures, diminishing per capita farmland, growing crop area for cultivation of seeds with traits and lofty returns of investment are the driving factors for the market growth. However, high barriers to market entry and increased commodity prices are limiting the market growth.
Complete Report @
https://www.wiseguyreports.com/reports/649667-seeds-global-market-outlook-2016-2022
By product, grains/cereals seeds segment accounted for the largest market share during the forecast period. Moreover, grains/cereals seeds conquered for seed with trait market. North America accounted for the highest market share in terms of revenue during the forecast period. On the other hand, Asia Pacific is the fastest growing market during the forecast period.
Some of the key players in this market include
DOW Agrosciences Llc,
Bayer Cropscience AG,
Syngenta Ag,
Krishidhan Seeds,
Burrus Seed Farm,
Limagrain, Rallis India
Limited,
Nuziveedu Seeds Ltd,
Stine Seed Company,
Monsanto,
Takii & Co. Ltd,
KWS Saat Ag,
Hefei Fengle Seed Co. Ltd,
Gansu Dunhuang Seed Co. Ltd and Mahyco Seeds Company Limited.
Get Sample Report @
https://www.wiseguyreports.com/sample-request/649667-seeds-global-market-outlook-2016-2022
Product Covered:
• Oilseeds
o Maize/Corn
o Wheat
o Rice
o Sorghum
• Grain/Cereals Seeds
o Rapeseed/Canola
o Soybean
o Cotton
o Sunflower
• Fruit and Vegetable Seeds
• Other Seeds
Biotechnology Traits:
• Seeds With Biotech Trait
o Insecticide Resistant Seeds
o Herbicide Tolerant Seeds
o Pollination Control System
o Disease Resistance
o Abiotic Stress Tolerance
o Modified Product Quality
o Other Stacked Trait
Regions Covered:
• North America
o US
o Canada
o Mexico
• Europe
o Germany
o France
o Italy
o UK
o Spain
o Rest of Europe
• Asia Pacific
o Japan
o China
o India
o Australia
o New Zealand
o Rest of Asia Pacific
• Rest of the World
o Middle East
o Brazil
o Argentina
o South Africa
o Egypt
What our report offers:
- Market share assessments for the regional and country level segments
- Market share analysis of the top industry players
- Strategic recommendations for the new entrants
- Market forecasts for a minimum of 7 years of all the mentioned segments, sub segments and the regional markets
- Market Trends (Drivers, Constraints, Opportunities, Threats, Challenges, Investment Opportunities, and recommendations)
- Strategic recommendations in key business segments based on the market estimations
- Competitive landscaping mapping the key common trends
- Company profiling with detailed strategies, financials, and recent developments
- Supply chain trends mapping the latest technological advancements
Have any query @
https://www.wiseguyreports.com/enquiry/649667-seeds-global-market-outlook-2016-2022
1 Executive Summary
2 Preface
2.1 Abstract
2.2 Stake Holders
2.3 Research Scope
2.4 Research Methodology
2.4.1 Data Mining
2.4.2 Data Analysis
2.4.3 Data Validation
2.4.4 Research Approach
2.5 Research Sources
2.5.1 Primary Research Sources
2.5.2 Secondary Research Sources
2.5.3 Assumptions
3 Market Trend Analysis
3.1 Introduction
3.2 Drivers
3.3 Restraints
3.4 Opportunities
3.5 Threats
3.6 Product Analysis
3.7 Emerging Markets
4 Porters Five Force Analysis
4.1 Bargaining power of suppliers
4.2 Bargaining power of buyers
4.3 Threat of substitutes
4.4 Threat of new entrants
4.5 Competitive rivalry
5 Global Seeds Market, By Product
5.1 Introduction
5.2 Oilseeds
5.2.1 Maize/Corn
5.2.2 Wheat
5.2.3 Rice
5.2.4 Sorghum
5.3 Grain/Cereals Seeds
5.3.1 Rapeseed/Canola
5.3.2 Soybean
5.3.3 Cotton
5.3.4 Sunflower
5.4 Fruit and Vegetable Seeds
5.5 Other Seeds
6 Global Seeds Market, By Biotechnology Traits
6.1 Introduction
6.2 Seeds With Biotech Trait
6.2.1 Insecticide Resistant Seeds
6.2.2 Herbicide Tolerant Seeds
6.2.3 Pollination Control System
6.2.4 Disease Resistance
6.2.5 Abiotic Stress Tolerance
6.2.6 Modified Product Quality
6.2.7 Other Stacked Trait
7 Global Seeds Market, By Geography
7.1 North America
7.1.1 US
7.1.2 Canada
7.1.3 Mexico
7.2 Europe
7.2.1 Germany
7.2.2 France
7.2.3 Italy
7.2.4 UK
7.2.5 Spain
7.2.6 Rest of Europe
7.3 Asia Pacific
7.3.1 Japan
7.3.2 China
7.3.3 India
7.3.4 Australia
7.3.5 New Zealand
7.3.6 Rest of Asia Pacific
7.4 Rest of the World
7.4.1 Middle East
7.4.2 Brazil
7.4.3 Argentina
7.4.4 South Africa
7.4.5 Egypt
8 Key Developments
8.1 Agreements, Partnerships, Collaborations and Joint Ventures
8.2 Acquisitions & Mergers
8.3 New Product Launch
8.4 Expansions
8.5 Other Key Strategies
Continued…
Buy now @
https://www.wiseguyreports.com/checkout?currency=one_user-USD&report_id=649667
Norah Trent
wiseguyreports
+1 646 845 9349 / +44 208 133 9349
email us here